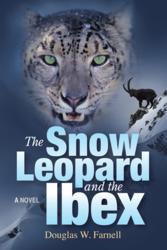 Losing everything, both personally and financially, only means that you need to refocus your ideals and passions
SEATTLE–
(PRWEB) November 29, 2012 -- Author Douglas W. Farnell explains how the financial crisis impacted him in his new book, "The Snow Leopard and the Ibex." Just like the 12 million small business owners around the U.S., Farnell found himself struggling to survive in an economy that had turned against him.
The book gives readers the opportunity to learn more about the intricacies of the crisis through the story of an adventure, rather than just dry facts.
"This story has been rattling around in my head for years and hitting a dead spot in my business brought it out on paper," Farnell says. "I want to help others understand the crisis happened and its ramifications while also telling a fun and entertaining story."
The book tells the story of small business owner Daniel Prescott, who is in danger of losing his business if he can't secure financial support abroad. His cross-Atlantic trip to secure credit is sabotaged when terrorists try to hijack his plane, setting of a dangerous series of events. In the end, Prescott ends up learning that losing it all can help recognize true dreams.
"Losing everything, both personally and financially, only means that you need to refocus your ideals and passions," Farnell says. "Daniel does this in the story and I've done it throughout my life."
For more information, visit Amazon, Barnes and Noble and AuthorHouse
"The Snow Leopard and the Ibex"
By Douglas W. Farnell
978-1-47725-574-2 (hardcover)
978-1-47725-575-9 (softcover)
978-1-47725-573-5 (e-book)
About the author
Douglas W. Farnell earned his MBA from Syracuse University. He was Chief Financial Officer of several small businesses before the financial crisis led to his unemployment. Today, he divides his time between writing and financial consulting. He is also an avid mountain climber who has climbed in the North Cascade Mountains, Rocky Mountains and Alps. Farnell lives in Seattle, Washington.