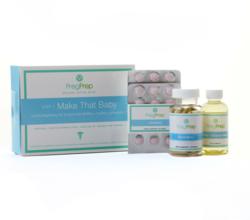 New York, NY (PRWEB) November 28, 2012
As many women can attest, getting pregnant is not always easy. In fact, sometimes it's downright tough. When Dr. Lara Oboler was ready to start her family, she found that desire and a well-studied ovulation chart were simply not enough. After several frustrating months trying to conceive - scouring medical research, reading every title in the "how-to" pregnancy section, and scanning drugstore aisles for anything that might help - she finally broke down and made an appointment with a fertility specialist. In the weeks leading up to her appointment, Dr. Oboler stumbled across the idea that mucolytics (generally used to break up chest congestion that develops in respiratory illness) can thin cervical mucus, making it less sticky, so the sperm can swim more easily to the egg. As this made medical sense to Dr. Oboler, who was desperate for a solution, she gave it a try.
At her fertility appointment, Dr. Oboler was shocked (and delighted) to learn her blood test was positive. She was pregnant! Dr. Oboler asked the fertility specialist about her use of a mucolytic. To her amazement, he acknowledged that mucolytics had long been used as a conception aid by fertility specialists. Some women who have difficulty getting pregnant simply need to make the job a little easier for their partner's sperm. By thinning the cervical mucus through which the sperm must swim, mucolytics allow the sperm to reach the egg with greater ease. This was Dr. Oboler's "aha!" moment. She realized this simple tool for helping to enhance conception should be a first option available for all women.
"For some women, it can make a huge difference and save them from unnecessary frustration," says Dr. Oboler, who feels strongly that all women should have access to targeted, natural products designed specifically to help promote conception. "As a doctor, I understand the average woman shouldn't have to stumble around in the dark making guesses with products not intended for that purpose."
Dr. Oboler went on to have two more children, getting pregnant the first month trying using a mucolytic. She then dedicated the next few years to developing safe, doctor-formulated products designed specifically to help promote the ideal conditions for conception. From the seed of that initial discovery, her Company, PregPrep, and the Make That Baby (MTB) kit were born.
PregPrep's MTB Kit contains a 2-month supply of 3 carefully formulated, natural products that work together to help optimize a woman's chance of conceiving. The MTB kit targets a woman's most fertile days and lays out a clear, comprehensive monthly plan. The kit includes:
FertilPrep: a natural dietary supplement with the optimal over-the-counter dose of NAC (N-acetyl Cysteine), a natural mucolytic and potent antioxidant that optimizes the quality of cervical mucus to help facilitate the successful transport of sperm to egg. FertilPrep is further bolstered by other natural derivatives, including Chaste Berry Extract and Evening Primorose Oil.
VitaMelts: a unique prenatal vitamin that contains the absolute essentials a woman needs during pre-pregnancy without all the stuff that makes you feel sick. Unlike giant horse pills that are on the market, PregPrep's VitaMelts melt on the tongue and contain the optimal amounts of Folic Acid, Vitamin D and B12 for women trying to conceive.
Essential Balance Oil: a blend of essential oils formulated to help create the optimal mood for the best part of baby making! The balancing essential oils help soothe the senses.
Every ingredient in the MTB Kit is designed to support fertility and help increase the odds for conception. It allows all women at any age or stage of their conception journey to be proactive.
"I believe we are on the threshold of an exciting new era," Dr. Oboler exclaims. "Scientific discoveries have been revealing that nature can be fine-tuned through the introduction of key nutrients, allowing people to take control of their health and vastly improve their quality of life. PregPrep is proud to be a part of this revolutionary movement toward proactive health."
About PregPrep
PregPrep is a New York City based Company dedicated to offering safe, natural products to promote fertility and a healthy conception. Created by a team of 4 women, PregPrep's mission is to empower women to take control of their fertility. PregPrep's first product offering, Make That Baby (MTB), is the result of years of research and formulated under the guidance of a renowned OB/GYN. Containing a 2-month supply of 3 doctor-formulated products, MTB provides women with a comprehensive program based on key medical principles that promote optimal reproductive health and conception. The MTB kit retails for $48 and can be purchased at http://www.pregprep.com as well as participating pharmacies.