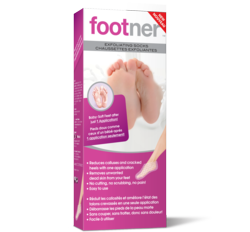 Almost a third of women confessed that bad feet would be a definite turn-off in the search for a potential partner.
Toronto, Ontario (PRWEB) November 29, 2012
It seems that, generally speaking, feet get bad press – people don't like their our own and they certainly don't like other people's. A new survey in the UK by footcare brand Footner, has revealed that almost a third of men (30%) and 39% of women find feet the least attractive body part on the opposite sex. Almost a third of women confessed that bad feet would be a definite turn-off in the search for a potential partner.
Despite 67% of respondents feeling the pressure for their feet to look good, it would seem few treat their feet with the tender loving care they deserve. Virtually all of the women surveyed (87%) dedicate less than $16 a month to footcare, including any professional beauty treatments. Over half of the women questioned (51%) said they would be likely to spend the most amount on footcare during summer, with just 6% investing in their poor neglected feet during the winter months.
In fact, foot abuse appears to be on the rise – although 79% of the women questioned currently own up to 20 pairs of shoes, the desire to look good far outweighs the comfort factor, with almost a third (30%) admitting to wearing shoes that cause pain or discomfort, for the sake of looking good.
The majority of women agreed that people feel more attractive when we have well-kept feet, with 59% of women agreeing with this statement. Over two thirds (67%) of the women surveyed said they were embarrassed by the state of their feet. Indeed a fifth of women surveyed (20%) were so ashamed of their less-than-perfect tootsies that they said they actively avoided situations where they have to be barefoot because they are so embarrassed.
Now help is available for feet in Canada! Footner Exfoliating Socks are a revolutionary single application solution to unwanted hard skin and cracked heel formation due to dead skin build-up and dryness. Safe and easy to use, the new, award-winning socks activate the skin's own natural peeling effect with just one 60 minute application, causing the upper layer of skin to peel away and completely removing any trace of hard skin build-up, without affecting healthy skin cells.
Footner Exfoliating Socks RRP $19.99.
Footner Exfoliating Socks are available at perticipating Shoppers Drug Mart / Pharmaprix stores across Canada (visit http://www.ShoppersDrugMart.ca or http://www.Pharmaprix.ca to find where Footner is available) or purchase online for shipment within Canada at http://www.MyFootner.ca.
---ENDS---
Notes to Editors:
Based on a survey conducted by Vision Critical
Nationally representative of the UK female population, balanced by age, social-grade and region
2,000 people surveyed
All respondents sourced from Vision Critical consumer panel, Springboard UK, October 2012