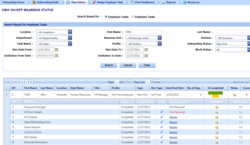 "EMP-Board continues to expand functionality to improve value and enhance our customer's experience said Tabitha Alex - Software Product Manager
Rockville, MD (PRWEB) November 29, 2012
EMP Trust Solutions a provider of HR Onboarding, Electronic I-9 and E-verify software announced the availability of a new version of its popular HR Onboarding software "EMP-Board" today.
EMP-Board Version 3.0 simplifies and improves current HR Onboarding functions including new hire portals, task management, internal documentation and forms capture. Significant new features included with the release provide interactive employee calendars, improved workflows for task delegation and integration with background check providers.
Companies can improve employee engagement and culture assimilation from day one with secure Onboarding portals where new hires can review required forms to complete, sign up for training, manage employee benefits and complete all of their tasks online.
EMP-Board helps employers improve employees productivity by automating all the tasks associated with bringing an employee into the organization by capturing electronic I-9 form, Federal and State Tax withholding forms, benefits and complete HR policy sign-offs. Electronic signature and wet signature are fully supported to conform to Federal E-sign guidelines with full audit trails. Task automation such as resource allocations for computers, employee badges, workspace allocations and HR orientation orientations help to streamline and provide visibility to internal departments. Email notifications and automated task routing manage different tasks associated with task provisioning.
EMP-Board is offered in both standalone product or can be integrated with existing HRIS and ATS systems. Both SaaS and installed version are supported for larger clients requiring integration with ERP systems with support for web services and batch file schedulers to ease integration.
"EMP-Board continues to expand functionality to improve value and enhance our customer's experience. We are fully committed to expanding our range of software solutions by partnering with external vendors for talent management, and learning solutions so our customer can leverage best of breed solutions" said Tabitha Alex a Product Manager with EMPTrust.
About EMPTrust
EMP Trust Solutions is a software technology company that provides Human Resources solutions and services for a global workforce. Our secure HR solutions provide companies with electronic I-9, DHS E-Verify, HR Onboarding tools to comply with Labor, Immigration, Export Controls regulations and provide solutions for workforce management to maximize employee efficiency. Learn more at http://www.emptrust.com