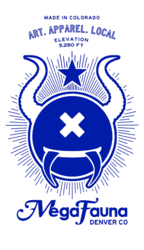 Denver, Colorado (PRWEB) November 28, 2012
MegaFauna, an artist collective featuring locally made print art, apparel and music, has announced the grand opening of its retail store and coffee shop located at 2701 Larimer Street in Denver's Five Points neighborhood.
Named after a zoological term describing large, mostly extinct species, MegaFauna is the vision of local artist and designer John McCaskill, who conceived the idea while looking for retail outlets for his own T-shirt and apparel designs.
"As co-owner of a screen printing business in Denver for many years, I had a difficult time getting our designs into retail stores due to the stock levels and insurance requirements for many chains and big-box stores," said McCaskill. "I realized there was a need for a store that supports local artists by featuring their work, and also lowering the barriers to entry they encounter when trying to market their designs."
MegaFauna currently works with nearly 50 independent local artists, including jewelry and apparel designers, print and graphic artists, photographers and musicians. The store also supports Denver-based programs like Feed Denver and Youth On Record, and promotes the work of local artists with exhibits, events, and sales.
For McCaskill, MegaFauna is not only a retail platform for local artists, but also a great shopping experience for the conscious consumer. "Many megafauna species did not survive. I worry that if we don't support our local artists, they too won't survive," said McCaskill. "MegaFauna acts as a vehicle for conscious consumer behavior by providing high-quality, locally made art and upcycled/recycled goods, and is broad enough to include local food suppliers and socially conscious programs."
In line with his vision, McCaskill has partnered with local coffee suppliers, roasters, delicatessens, and packaged foods companies to offer a coffee shop and café with light, eco-friendly food options. The café plans to open a walk-up pedestrian window for the area's burgeoning late night traffic.
A former nationally ranked collegiate hurdler, McCaskill earned a business degree from Mississippi State University and his business acumen from years as a manager for restaurants and high-tech companies. McCaskill says he plans to take his MegaFauna concept to other cities in the future. "We intend to carry our brand forward as a conscious consumer-type store so that wherever we open a new retail outlet, we will feature artists and goods local to that area," he said.
MegaFauna is located at 2701 Larimer Street in the heart of Denver's Five Points neighborhood. The retail store and coffee shop is open seven days a week, from 10:00 A.M. to 9:00 P.M. The café's pedestrian window will be open Thursday, Friday and Saturday nights until 2:00 A.M. For more information, visit their website at http://www.megafaunastore.com, or follow MegaFauna on Facebook (@megafaunastore), or Twitter (@megafaunaCO).