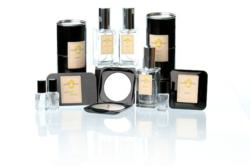 New York, NY (PRWEB) November 27, 2012
Yves Saint Laurent once said that after all his years in fashion, he learned that "what is important about a dress is the woman wearing it." SAGE + fasten is a new fragrance company founded on the same belief: that a woman's perfume should be worn to empower, and never overpower her natural strength and beauty.
Founder Vivian Lee — a former counselor, HR professional, and life-long fragrance enthusiast — strives to marry her zeal for helping others to achieve their personal goals with her affinity for beautiful and uncomplicated fragrances.
Born of this enthusiasm, SAGE + fasten pairs a desire to inspire with its commitment to healthfulness. Carefully crafted without the use of toxic parabens, sulphates, and synthetic dyes, SAGE + fasten's collection of fragrances come in four variations, named for four qualities that define the essence of feminine energy.
SAGE + fasten's Scents:

Common Sense – (SAGE + fasten's signature scent) True common sense cannot be bottled but we can all use a little reminder sometimes to listen to the voice in our heads that grounds us and helps us navigate life's chaotic moments. Clean, bright + invigorating with notes of orchid, lotus flower, mango, peach + lychee.
Honest – Truth and honesty are the foundations of being your best, authentic self. Floral, sweet + delicate with notes of cherry, pear, lily of the valley, vanilla + tonka.
Aware – Self-awareness is a powerful trait. Knowing who you are enables you to be at peace with yourself yet be inspired to make positive changes in your life. Soothing, stimulating + enveloping with notes of basil, rosemary, jasmine, ylang ylang + sandalwood.
Character – "…Watch your character, for it becomes your destiny". Like the roots of an aged oak tree, stay grounded and find the strength to be your best no matter what life throws at you with character. Woodsy, subtle + intimate with notes of oakmoss, grass, juniper, hyacinth + gardenia lily.
These cruelty-free fragrances come in a convenient compact of solid perfume, a rollerball collection in a sliding tin, or a classic eau de parfum bottle. They can be purchased directly through the SAGE + fasten online shoppe at http://sageandfasten.com/the-shoppe.
Media Contact: Jenn Deese, Melrose PR, jenn(at)melrosepr(dot)com, 310-450-7960, http://www.melrosepr.com