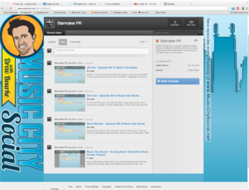 Nashville, TN (PRWEB) November 28, 2012
Starmaker PR Group has launched a new podcast audio program named Music City Social. The podcast host Drew Bourke, interviews Nashville music business insiders, giving audiences a glimpse of what the business of music is really like.
The first podcast guested Steve Mandile, a multi-talented musician who appears regularly in ABC's primetime hit Nashville TV show. Many envy his musical career and are eager to hear his insights about the music scene. Due to the interesting mix of personalities and informative content, the show received over 16,000 YouTube views in only one week of creating the Music City Social channel.
Music enthusiasts and those who are interested in getting into the music industry should tune in to these podcasts. It's not all glitz and glamor – that's what the show will definitely prove to its audience. Music City Social will cover everything that goes on with gigs, music events, recordings, and even the time musicians spend off-stage. The harsh details of the industry will not be spared. To put it simply, the show will unravel the reality behind the hardship and pleasure that musicians go through to earn recognition through their music.
A few of the specific topics to be covered by Music City Social are the true facets of getting a recording contract, writing songs that somebody else will be credited for, and also how and where record label executives discover new talent. The host and his interviewees will answer any question people might have about the music industry. The show is about real stories inside the music business, told by the people who live it.
Music City Social is hosted by Drew Bourke, now a part-time drummer who's lived in Nashville since 1987. Drew struggled also when moving to Nashville, and has gained an abundance of knowledge much due to personal experience in the music business. Along his journey, Drew played with some of Country Music's hottest stars, opened a recording studio, and eventually moved into publicity services for the entertainment industry. According to Drew, "The idea of hosting and producing a show like Music City Social has been a long-time passion of mine. I enjoy every second of it. Many of these people are my closest friends, and they all have great stories to share."
Music City Social is produced by Starmaker PR Group and is hosted by Drew Bourke. For more information about Music City Social, visit http://MusicCitySocial.net