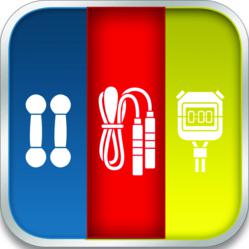 Chicago, Ill. (PRWEB) November 27, 2012
More than 30 million kids and teens play sports in the United States. According to the U. S. Consumer Product Safety Commission, more than 3.5 million sports-related injuries to children under age 15 are treated each year, with injuries from football, basketball, baseball and soccer topping the list. The American Academy of Pediatrics (AAP) recommends strength training for kids ages 8 and older as a safe and effective means of both injury reduction and performance enhancement.
To give families the tools they need to strength train safely and effectively, the AAP has released the IronKids app, which includes everything a young athlete needs to safely build strength, balance and fitness, and to prepare to excel in sports and keep playing by preventing injury. The app features a 45-minute workout led by Jordan D. Metzl, MD, FAAP, a nationally recognized sports medicine pediatrician, 29-time marathon runner, and 9-time Ironman triathlete. It includes detailed demonstrations to work the core, upper body and lower body, as well as strength-training pointers and tools to create custom workouts and set goals and reminders.
The app contains the full workout and the principles and tips clips from Dr. Metzl's DVD, Home Strength Training for Young Athletes, recently released by the AAP, as well as tools to create custom workouts by selecting, naming and scheduling exercises.
The app is available through the iTunes store for iPhone/iPad/iTouch.
Dr. Metzl developed this home strength-training tool for the AAP in response to the widespread recognition in the medical community of the benefits of strength training and injury prevention for children, and the lack of resources for parents, coaches and kids to strength train at home or on the field.
"Parents think that strength training is dangerous for kids, that it stunts growth and requires the help of a professional trainer – but these assumptions are untrue," said Dr. Metzl, who practices sports medicine at the Hospital for Special Surgery in New York. "Strength training is different from power lifting, and it is safe for kids starting at 8 years old. Because of these misconceptions and the lack of resources available for strength training, most kids just don't do it. That is part of the reason we're seeing so many injuries in youth sports – kids' bodies aren't prepared. "
Dr. Metzl adds, "We developed a home strength training program that kids and parents can conveniently do together, and that coaches can use on the field or in the gym. We also are encouraging physicians nationwide to discuss the benefits of strength training with their patients."
ABOUT THE AUTHOR
Jordan D Metzl, MD, FAAP (http://www.DrJordanMetzl.com ) is a nationally recognized sports medicine physician at Hospital for Special Surgery in New York City. With a practice of more than 20,000 patients, Dr. Metzl is widely known for his passion for sports medicine and fitness. His focus is to safely return athletes to the playing field of their choice and to keep them there. In addition to his practices in New York and Greenwich, Conn., Dr. Metzl is an award-winning author and medical columnist for Triathlete Magazine. His books include "The Young Athlete" (Little Brown) and "The Athlete's Book of Home Remedies" (Rodale).
Regularly voted among New York's top sports medicine doctors by New York magazine, Dr. Metzl takes care of athletic patients of all ages and lectures and teaches extensively both nationally and internationally. Dr. Metzl appears regularly on media programs including the Today Show and in print media including the New York Times, discussing the issues of fitness and health. In addition to his medical practice and academic interests, he practices what he preaches. He is a former collegiate soccer player, a 29-time marathon runner and 9-time Ironman finisher. He lives, works, and works out in New York City.
Product details:
IronKids App
Author: Jordan D. Metzl, MD, FAAP
Publication date: Sept 2012
Price: $3.99
Available through iTunes store for iPhone/iPad/iTouch
###