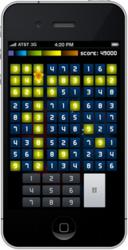 Speedoku is a fast-paced version of Sudoku that gives players more points as they master cells faster.
Denver, CO (PRWEB) November 29, 2012
Neural Interactive, a Denver-based multimedia design and development company, today announced the launch of Speedoku, a new mobile game based on the traditional game of Sudoku – with a heavy dash of speed. The free, light version of the Speedoku app is now available at the Android Market and iPhone App Store. Fans can purchase the complete version, including all six difficulty levels, for only 99 cents.
Speedoku is a fast-paced version of Sudoku that gives players more points as they master cells faster. It offers the thrill of speed and competition, bringing Sudoku to life. The look-and-feel of Speedoku is like no other, with an old-school arcade feel right at your fingertips. It boasts retro fonts, twinkly stars and a colorful board with sensory-grabbing graphics. To see a demo showing how to play Speedoku, visit URL.
"I have always loved playing Sudoku, but I found that I liked playing the easy levels just to see how fast I could go," said Chris Kelly, CEO of Neural Interactive and lead developer of Speedoku. "I thought there needed to be a game that gives points for speed and ranks players in a real-time leaderboard and that's how Speedoku came to life."
Additional features of the app include:

Six levels of difficulty from "Infant" to "Seriously?"
Highlights solved cells for the selected number
Auto advances after solving for a number
Advanced scoring system beyond time/momentum scoring
Global leaderboard
Ability to share achievements on Facebook
"This isn't your grandma's Sudoku; it offers an adrenaline rush that works the brains and fingers of novices and ultimate champions alike," added Kelly. "However, don't say we didn't warn you – you should not play if you have arthritis of the thumbs, an aversion to speed or an addictive personality!"
To learn more about Speedoku, visit http://www.speedoku.com.
About Neural Interactive
Neural Interactive is a multimedia design and development company based in Broomfield, Colorado. Founded in 2009, the company marries deep knowledge for programming with a passion for creativity. Neural Interactive offers a broad suite of services, including interactive design, App creation and execution, websites, social media campaigns and other uncharted experimental projects. Learn more at http://www.neuralinteractive.com.
###
Keywords:
Sudoku, Android, download games, iphone apps, android market, android apps, androidmarket, app store, android apps, apps for android, best apps, puzzle games, mobile games, top apps, Sudoku on line, sodoku online, Sudoku online, online Sudoku, Android Games, phone games, games for phone, free Sudoku, Sudoku free, Sudoku puzzles, Sodoku, Speedoku, Neural Interactive