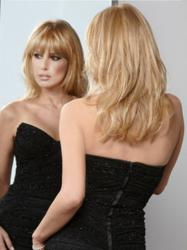 It's time to get fashion forwards styles with Daisy Fuente's 11 new WOW wigs by LuxHair.
Santa Ana, CA (PRWEB) November 28, 2012
Voguewigs.com announces the New Daisy Fuentes WOW Wig Collection by LuxHair. With the growing needs of women to change their hairstyle more often, the WOW Wig Collection instantly can give any hairstyle a boost. Whether it's a classy and elegant ponytail for the office, clip-on bangs for a day of shopping, or long, sexy blonde layers for a night on the town, the WOW Collection has every situation covered.
Daisy Fuentes is a model, devoted philanthropist, and international TV personality. She has enjoyed an enduring entertainment career for more than 25 years. On and off the red carpet, Daisy believes true beauty should be timeless, chic, and sexy. She empowers women by helping them look and feel great. Now she makes it easier than ever to look glam and gorgeous with her WOW Wig Collection.
Daisy's new collection features 4 short styles, 1 medium shoulder length cut, 2 sexy long styles, and 4 add on hairpieces. All her wigs and hairpieces are made with Keralon Plus fibers that have an exclusive Keratin coating that leaves hair soft, silky and beautiful. The Keralon Plus fiber is heat friendly, so it can be curled or straightened to the exact style desired. Each wig and hairpiece is made for ease and comfort, making it fast and easy to look fabulous and chic.
The WOW short wigs are popular because it is easy to maintain, lightweight, and comfortable. The Strong and Sassy wig, a tousled soft crop loaded with natural volume, is the shortest wig in the collection. For something with a bit more hair, the New Angle wig is a short style with volumizing top layers. For a more edgy look, the Asymmetric is a sassy, short bob with lightly textured, side swept bangs. The Modern Bob wig is a beautiful, blunt bob with sleek, straight bangs giving it a dangerous and high end fashion look.
Looking for something a bit longer? The Chic Layers wig is a medium-length, modern yet classic style with tons of layers throughout adding ample volume. The Temptress Wig is a full-length wig with smooth layers and a lightly textured bang style with open end waves. Finally, the Long and Luscious wig is a beautiful contoured long style with volumizing curly layers.
The WOW Collection does not only offer wigs. Daisy Fuentes has also created WOW hairpieces that will compliment any existing hairstyle by adding that extra spice. The 22" Pony Fall hairpiece is an extra lightweight pony for added length and volume. This hairpiece can be transformed in numerous ways. Cutting bangs is probably one of the risky things a woman could do. The Wow Bangs will add a gorgeous bang style without the commitment of a cut. The Tousled Twist hairpiece is another great addition to a ponytail, styling it high or low. Daisy also has braids! Her Braided Band is the perfect accessory whether wearing it up in a ponytail or down, these braids will add that extra style.
WOW is the perfect accessory, especially for women who love fashion and own their style. Hair isn't just a statement it's an entire story. It's time to get fashion forwards styles with Daisy Fuente's 11 new WOW wigs by LuxHair. The WOW wigs are designed for women with busy lifestyles, making it easy to apply while achieving the natural look and feel of real hair. Never have a bad hair day again. Look beautiful and stunning 365 days of the year.
About Voguewigs.com:
Voguewigs.com is a rapidly growing e-commerce company that offers the best collection of wigs and hairpieces. With our extensive experience in the beauty industry and our hands-on expertise, we strive create the best shopping experience possible. Our mission is to enable every woman to have the hair they have always dreamed of.
Contact:
For more information on the WOW wig collection by LuxHair offered on Voguewigs.com, please email sales(at)voguewigs.com or call 1-888-727-9447, or you can also visit http://www.voguewigs.com.