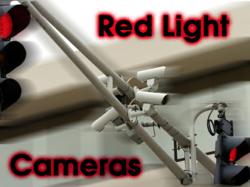 20 Percent rise in Rear-End Crashes; Lawmaker: They're ripping off the public.
(PRWEB) November 28, 2012
There are more than 80 cameras in place across New Jersey and other states around the country. A recent study by New Jersey shows they might be causing more problems than they are solving.
In an article by CBS 2's Don Dahler reported, "The New Jersey Department of Transportation analyzed two dozen intersections that have red-light cameras for at least a year. The study shows accidents are on the rise." - Newark, N.J. (CBSNewYork/AP) -- Read More.
New Jersey State Assemblyman Declan O'Scanlon Jr. (R-Red Bank) says, "What we're doing is we're causing people to act erratically, and through some level of paranoia that they might get a ticket."
How can a motorist stop the feeling of paranoia? The antidote might be in a red aerosol can.
A Hackensack, NJ internet company, Helmar Distributors sells a product called Photo Blocker Spray to stop camera-generated tickets by making your license plates so reflective that they blind a spying camera when its flash goes off. Tests show that "PhotoBlocker," can help drivers beat traffic-enforcement camera tickets by coating their license plates with a spray.
A majority of red light & speed cameras utilizes a strong flash to photograph the license plate on the car. Once PhotoBlocker is sprayed on the plate, it's special formula produces a high-powered gloss that reflects the flash back towards the camera. This overexposes the image of the license plate , rendering the picture unreadable. With PhotoBlocker, the license plate is invisible to traffic cameras yet completely legible to the naked eye.
Helmar Distributors started selling the product two years ago. The company started carrying the product primarily because of the growing number of cities on the East Coast that were using cameras to enforce traffic laws. Now they ship all over the United States.
Photo Blocker Spray retails for $30.00 but is on sale from now till Christmas for $25.00 -- a can that can cover up to six license plates.