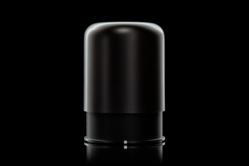 HiddenRadio Wireless Speaker will be featured in WIRED's 8th annual gallery-style pop-up store located in the heart of Soho
San Francisco, CA (PRWEB) November 29, 2012
HIDDEN, a designer and manufacturer of consumer electronic devices, today announced that the HiddenRadio Wireless Speaker will be featured in WIRED's 8th annual gallery-style pop-up store located in the heart of Soho in New York City at 583 Broadway between Prince and Houston. This one-of-a-kind, curated event promises to create an interactive shopping experience that takes holiday shopping to a whole new level. Laptops and iPads will be on hand, from which attendees can order their favorite gadgets. Shoppers that can not be in attendance will be able to purchase their HiddenRadio device from the WIRED Store's online shop.
http://store.wired.com/product/524-hidden-hiddenradio-wireless-speaker
HiddenRadio's Key Features include:

Multifunctional - HiddenRadio is a Bluetooth speaker, amplifier and FM radio all-in-one that works with most laptops, tablets and iOS or Android smartphones to enhance music, movies, gaming, and more.
Iconic Design - HiddenRadio's minimalistic design is captivating in its simplicity and ease of use. The interactive cap serves as the power switch and controls the volume, creating a unique semantic connection.
Simple, Intuitive, Loud - The world's simplest and most intuitive wireless speaker is activated with just a slight twist of the cap; the further you twist and lift the cap, the louder it gets. In the compact speaker category, the HiddenRadio is one of the best performing speakers available to date; its sound easily fills the space of the largest apartment.
Truly Portable - Weighing in at less than a pound, HiddenRadio fits in any bag or backpack. The lithium-ion battery provides 15 hours of solid sound and is easily recharged via USB.
Wireless Freedom - No more tangled cords or searching for an outlet; simply twist and lift the cap and the HiddenRadio automatically goes into pairing mode with any smartphone or computer equipped with Bluetooth.
360° Sound - HiddenRadio's unique speaker drivers and cone design spread the sound evenly throughout the room, for a full audio experience to over 90dB.
HiddenRadio is available now at the special holiday price of $149.95 on the HIDDEN website in Metallic Silver, Graphite Black or Pure White.
About HIDDEN
HIDDEN, a design focused consumer electronics manufacturer. Co-founded by industrial designers John Van Den Nieuwenhuizen and Vitor Santa Maria, HIDDEN creates simple products that are innovative, intuitive and create a positive impact in people's lives. Based in San Francisco, HIDDEN's first product, HiddenRadio, is now available online. For more information about HIDDEN, visit the company website, http://www.hiddenradiodesign.com.
For More Information, contact:
HIDDEN
press(at)HiddenRadioDesign.com
Watch HiddenRadio's Video: http://vimeo.com/46955390#at=0
Follow HIDDEN on Twitter: https://twitter.com/hiddenradio
Follow HIDDEN on Facebook: http://www.facebook.com/hiddenradiodesign