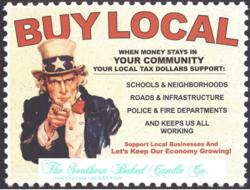 When you shop Local, you find a wonderfully unique experience you can't get in the big box stores.
(PRWEB) November 28, 2012
Local sports teams, like the ones in Columbia, SC, often rely on local businesses to sponsor them. The Southern Baked Candle Company is one such local business that jumps at such opportunities. Along with other local businesses located on Devine Street,Southern Baked Candle has taken the opportunity time and again to sponsor local sports teams as well as donate to local charities.
Over the years they have donated to well-known organizations like the South Carolina D.A.R.E., Children's Charities of the Midlands and the American Amputee Soccer Association. Yet according to Southern Baked Candle owner Debey Hancock, local companies have had to do with less during these last few years in this poor economy. That's why they're asking residents to Shop Local during this year's holiday shopping season.
Local businesses rely on the support of the local community just as sports teams rely on the sponsorship of those businesses. By supporting local businesses like Southern Baked Candle, patrons are allowing them to continue sponsorship's and other charitable donations. Continuing their charitable giving is something most of the small business owners want to do.
"I can't help it when a kid comes through the door with a clipboard," says Hancock. "I just ask 'what is your name' and 'how can I help?'"
Hancock went on to point out the fact that the sponsors of local athletes seldom come from big companies like Wal-Mart or Target. It is small businesses like hers that provide the majority of the sponsorship's. She said that in order to continue taking advantage of charitable opportunities, local business owners need the support of Columbia residents this year. When we shop local our money stays right here in our community.
About the company:
The Southern Baked Candle Company features Unique,custom Hand crafted "Bakery" and "Food" candles as well as custom candle gifts and wax sculpture requests. The Southern Baked Candle Company serves the Columbia SC market and is located at 2718 Devine Street Columbia SC 29205.803-456-3011 Through the success and direction of Master Chandler - Debey Hancock, the company has added a national web site for custom candles and wax sculptures at http://www.southernbakedcandle.com.