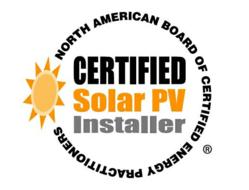 "We strongly promote NABCEP certification among our staff and throughout the solar industry," explains Blake Jones, Namasté Solar's President and CEO
Boulder, CO (PRWEB) November 28, 2012
Fourteen of Namasté Solar's employees recently passed the rigorous North American Board of Certified Energy Practitioners (NABCEP) certification exam for solar photovoltaic (PV) installers. After meeting certain training and experience requirements, NABCEP applicants sit for a 4-hour, 60-question exam that is typically offered twice per year. The 14 newly certified employees bring Namasté Solar's total number of certificants to 41 out of 100 employees, one of the highest per-capita certification rates in the U.S.
NABCEP is the nation's most established certification body for solar industry professionals; in 2010, its program was adopted as a standard benchmark in Colorado House Bill 10-1001. The intention was to require that appropriately trained professionals supervise solar PV project installations in order for the projects to qualify for ratepayer-funded incentives. Ezra Auerbach, Executive Director of NABCEP, says, "We congratulate Namasté Solar on the high number of NABCEP Certified Installers and Technical Sales Professionals they have on staff. With the recent addition of 14 new certificants, 40% of Namasté Solar's staff holds NABCEP certifications. This is a huge accomplishment that speaks volumes to Namasté Solar's commitment to fielding trained and qualified staff. They are clearly national leaders with respect to ensuring quality assurance in PV installations."
"We strongly promote NABCEP certification among our staff and throughout the solar industry," explains Blake Jones, Namasté Solar's President and CEO. "Much like an electrician having an electrical license, NABCEP certification is an identifiable sign of technical knowledge and experience. Furthermore, as an employee-owned cooperative, we are committed to providing our employee-owners with opportunities to enhance their technical skills and pursue a promising, long-term career in the solar industry – which, by the way, we think will be one of the most exciting and fastest growing industries in the 21st century."
Namasté Solar encourages and assists its employees in pursuing NABCEP certification in a variety of ways. Internal classes and study sessions, taught by veteran employees and external trainers, are conducted to help applicants prepare for the exam. After becoming NABCEP certified, Namasté Solar's employees are given immediate pay increases as recognition of their achievement and the proven technical knowledge it represents. The company also pays for employees' certification fees. Namasté Solar Lead Installer and Employee-Owner, Jason Owens, explains, "The training I received from colleagues in the classes and study sessions helped me prepare for the exam and really understand the technical concepts. I invested a lot of time and energy into this, and overall I definitely feel it was worth it. NABCEP allows me to advance my career in solar, and without it, I simply wouldn't have the same opportunity. Now that I'm certified, it clearly sets me apart from other installers that aren't, and I think it sets us apart as a company, too."
Throughout Colorado, numerous organizations provide NABCEP training courses, including the Independent Electrical Contractors Rocky Mountain chapter (IECRM), the International Brotherhood of Electrical Workers Local 68 chapter (IBEW Local 68), Solar Energy International (SEI), Red Rocks Community College, Arapahoe Community College, and more. As part of a national and statewide initiative to train people for green careers, scholarships have been available through state workforce training centers with funding coming from sources such as the American Recovery and Reinvestment Act (ARRA) and Colorado's State Energy Sector Partnership (SESP) grants.
About Namasté Solar:
Namasté Solar is an employee-owned cooperative that designs, installs, and maintains solar electric systems for residential, commercial, non-profit, and government customers throughout the U.S. Based in Colorado, Namasté Solar has installed over 2,000 solar electric systems throughout the state, more than any other company. Namasté Solar's unique business practices include democratic employee ownership, open-book management, and donating 20% of its earnings to local non-profits. http://www.namastesolar.com
In 2011, Namasté Solar began to offer its solar PV services nationwide. With an ever increasing focus on training and professional development, Namasté Solar believes it will be better poised to offer its national clients the same great customer service and quality work that the Colorado market has known since the company's founding in 2004.
About NABCEP:
The North American Board of Certified Energy Practitioners (NABCEP) is the most respected, well established, and widely recognized national certification organization for professional installers in the field of renewable energy. NABCEP is a volunteer board of representatives who are chosen based on their experience and involvement in the solar energy industry. NABCEP's mission is to develop and implement quality credentialing and certification programs for practitioners by supporting and working closely with professionals and stakeholders in the renewable energy and energy efficiency industries. http://www.nabcep.org
###