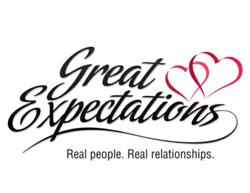 "It's quite an honor to be able to give back and put a smile on another child's face," said Taylor Shelton, Fort Worth's Center Director.
Dallas, TX (PRWEB) November 28, 2012
Everyone has their own way of getting into the Holiday Spirit. Whether it's spending time with family and friends or bundling up with the kids to go look at Christmas lights, we all have our yearly traditions. This year, the Dallas and Fort Worth offices of Great Expectations are creating a new tradition by giving back to their community with Toys for Tots.
"I've had the pleasure of being involved in helping Toys for Tots over the years and am excited to be able to help out again this year. We are requesting all members who plan on attending the holiday parties to bring a new un-wrapped toy, and for those unable to make the party they are more than welcome to drop one off at their local center. We will be accepting toys until December 18th," said Stefanie Hogan, Dallas Center Director.
The Marine Corps Toys for Tots program has been around for more than half a century. Their goal is to encourage under privileged children to grow into responsible and patriotic citizen by becoming leaders in their communities. According to the Toys for Tots program, approximately 13 million children in America are growing up in poverty which can leave a psychological impact for their future.
"Being a mom myself, I know how lucky I am to be able to provide for my kids, however, I know there are many out there struggling. It's quite an honor to be able to give back and put a smile on another child's face," said Taylor Shelton, Fort Worth's Center Director.
The toys will be collected at each center's upcoming holiday party. Dallas will be hosting their event on December 1st at the Shops of Legacy. Fort Worth's party will be the following Saturday, December 8th, at The Tower. If you are not a member of Great Expectations, but would like to make a donation, please give one of the centers a call. The Dallas Center can be reached at 972-448-7900 and the Fort Worth Center at 817-332-8009.
About Great Expectations:
Great Expectations is a matchmaking dating service with more than 35 years of experience that caters to the busy working professional. With the corporate office based out of Dallas and centers available nationwide, Great Expectations has merged today's technology with old-fashioned matchmaking methods, to become a leader in the dating industry, by giving their members more than one way to connect with one another. To learn how to get in contact with your local office call 866-907-5046 or visit http://www.greatexpectationsdfw.com.