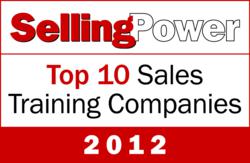 Up to 57 percent of B2B buying steps are completed before buyers connect with a salesperson.
Fredericksburg, VA (PRWEB) November 29, 2012
Selling Power magazine editors have assembled a list of 10 sales-training firms that excel in helping sales managers improve the performance of their B2B sales teams. The list appears in the Winter issue as part of a feature article, "Sales Training that Works: How to leverage the best sales training methods to help your team win."
Despite the proliferation of technology and sales apps, solid sales training continues to be a driving force that fuels the success of competitive sales teams. Gerhard Gschwandtner, founder and CEO of Selling Power, says that the best sales-training companies provide insight that helps sales teams think about their selling skills and sales process in new ways.
"Research has shown that up to 57 percent of B2B buying steps are completed before buyers connect with a salesperson," Gschwandtner says. "Many B2B companies still need to shift their mind-set about how they are training and developing the top talent that can help them win with the digitally-empowered customer."
These organizations make up Selling Power's 2012 Top 10 Sales Training Companies list:
The Brooks Group
Carew International
Corporate Executive Board (CEB)
Forum Corporation
Fusion Learning
PJF Sales Training
Profit Builders
Sales Performance International (SPI)
Sales Readiness Group
ValueSelling Associates
Gschwandtner says, "The firms on our Top 10 Sales Training Companies list have demonstrated an excellent awareness of the skills and tools required in order to succeed and remain competitive in today's selling environment."
About Selling Power
Selling Power magazine is the leading sales-management magazine, with a circulation of 98,000 subscribers in 67 countries. Personal Selling Power Inc., maintains a book-publishing division; a daily, five-minute, executive video; and the leading Website in the sales industry with more than 100,000 visitors per month.
About Gerhard Gschwandtner
Gerhard Gschwandtner is the Founder and CEO of Selling Power and the publisher of Selling Power magazine. He conducts a popular Daily Report video series featuring interviews with top sales and marketing executives and CEOs, regularly hosts the Sales 2.0 Conference, and maintains an award-winning blog. He is a recipient of the Sales & Marketing Executives International, Inc. 2010 Ambassador of Free Enterprise Award.