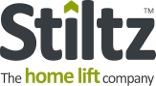 Stiltz home lifts are safer than stairlifts as there is no risk of falls. It has given my husband his independence back
Wokingham, Berkshire (PRWEB UK) 29 November 2012
Stiltz Lifts gave visitors a real lift at the Ideal Home Show at Christmas at London's Earls Court this month.
The home lifts specialist made a late-entry to the annual shopping event after they decided to exhibit the new Stiltz polycarbonate lift.
Designed to look as neutral and as aesthetically pleasing as possible the new 'crystal clear' lift proved a hit at the event that has been described as 'the biggest home show at Christmas'.
Stiltz Lifts who featured at the Ideal Home Show back in April as part of the 2012 Home of the Future, also displayed the Stiltz Trio Lift which was launched around 12 months ago. The lift is almost identical to the standard Stiltz lift but has a deeper lift car to allow for extra space for a wheelchair. The Berkshire-based company this week installed the Trio for a couple in Hertfordshire who described it as 'life changing'.
Jon Salisbury, 49, who unable to work due to multiple sclerosis three years ago, from Kings Langley, Hertfordshire, and his wife, Anne, first had a stairlift installed at their home but soon discovered the impracticalities of it. Mr Salisbury was unable to use it unaided and the maintenance costs became expensive.
The couple, however, remained adamant that they did not want to move house. Now having invested in Stiltz's Trio Lift, Mrs Salisbury says the Stiltz lift has given her husband his independence back. It has also relieved of her the stress of helping him on and off the stairlift with no risk of Mr Salisbury falling and injuring himself.
Initially when Mrs Salisbury, 46, looked into the possibility of having a home lift installed in their living room, she was told that it would be not be possible by two separate lift companies. However when she came across Stiltz Lifts, she says they were able meet the couple's requirements without any problems.
Mrs Salisbury said: "My husband Jon has been unable to walk since 2010. We did not want to have to move from our home or have to sleep downstairs.
"We already had a stairlift and as Jon cannot independently transfer, someone always had to be with him. In addition, I felt that I had been backed into a corner with the stairlift and that it was overpriced and that the maintenance costs were very high.
"I searched on Google and found Stiltz after searching for domestic lifts. At that time Stiltz did not come up on the first page of the search. I kept looking as the two companies that I had around to quote could not do what I wanted.
"We found that Stiltz were passionate about what they do and had an amazing product. The Trio lift is a beautiful piece of design that does not make your home look like an institution. The lift goes from the living room into our bedroom.
"It has amazing technology that sets it apart from its hydraulic-based counterparts. It fitted where the other list companies told me that I couldn't have a lift and it has given Jon independence to move around the house.
"It also relieved the physical stress on me as I do not have to do transfers any more. It is also safer than a stairlift as there is no risk of falls.
"Stiltz are really nice people that you can believe in and trust. I am really glad that we found them as it has changed our lives and I would recommend them without hesitation."
For more information on Stiltz's lifts contact 0844 870 9087 or visit http://www.stiltz.co.uk. Find Stiltz on Facebook and Twitter at @StiltzLifts.
ABOUT STILTZ LIFTS
Stiltz Lifts UK is the sole supplier, manufacturer and installer of the Stiltz home lift. Based in Wokingham, Berkshire, the company was founded in the United Kingdom and has offices in China.
Stiltz gained its experience designing domestic lifts and elevators in Australia for more than two decades. The lifts are through-floor and fit in the home - the first of their kind to be available in the UK.
The company developed the lift to make life easier for elderly or disabled people and help them to stay in their own homes for longer when stairs become too much.
Unlike stairlifts, the Stiltz lift carries two people comfortably and is a hassle-free and cost-effective alternative to a stairlift.
Stiltz's lifts do not need fixing to walls and can be fitted anywhere in the home with no major building work. It has the smallest footprint for a residential lift on the market and is very quiet because it does not use hydraulics.
The Stiltz lift was created in 1994 when its inventor created a prototype and installed it in his own home. Since then with input and technological enhancements from Stiltz and its experienced engineering team, the company is now regarded as one of the most innovative in the lifts industry.
CONTACT STILTZ LIFTS
Stiltz Limited,
Units 21-22 Space Business Centre,
Molly Millars Lane,
Wokingham,
Berkshire,
RG41 2PQ
Tel: 0844 870 9087
Email: info(at)stiltz(dot)co(dot)uk
Website: http://www.stiltz.co.uk