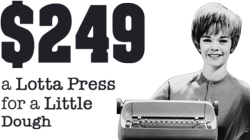 Probably the best $249 any business can spend on advertising and marketing
Nashville, TN (PRWEB) November 28, 2012
Starmaker PR Group has launched Tiny PR Campaign, the first of many low-cost publicity services that will cater to small businesses and the entertainment industry. Tiny PR Campaign delivers a high-impact, low-cost, short-term national publicity campaign for only $249. The package includes these services:
1. One professionally written press release submitted to over 280,000 opt-in subscribers, 10,000 news and media outlets, and up to 200 regional journalists.
2. Five carefully crafted blog posts published on five websites.
3. Twenty Twitter Tweets seen by over 1,000,000 followers.
4. One 90-second podcast audio segment written, produced and narrated by a professional speaker. These are now popular on iTunes, Stitcher Radio, YouTube, blogs, websites and more.
The $249 Tiny PR Campaign service delivers a nationally-visible publicity and marketing package in a price range that most individuals and businesses can afford when making a big announcement. Tiny PR Campaign is one of many PR and marketing services Starmaker PR Group plans to roll out over the next six months.
A short-term marketing campaign of this magnitude is perfect for companies or individuals needing to broadcast the availability of a new product, new service, upcoming launch date, CD release, and/or anything that needs national visibility, online and possibly offline, with little to no lead time. The $249 Tiny PR Campaign is the brain child of Starmaker PR Group president, Drew Bourke.
"There are lots of great publicity firms to choose from. What I believe is missing are specific packages that cater to different industries and at different price points. Tiny PR Campaign was built for those that either lack an ongoing publicity budget, or those who need to promote something big and fast, but with very little investment. We have this down to a science, and can bring traffic, posture and awareness to most anything in a very short period of time", according to Mr. Bourke.
Details about the $249 Tiny PR Campaign can be found on their website at http://TinyPRCampaign.com.