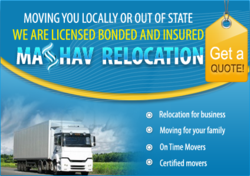 During the Christmas season people are always looking for ways to save money.
Baltimore, MD (PRWEB) November 28, 2012
Mashav Relocation, a trusted Maryland moving company announced today they have new holiday moving coupon specials for those who are moving this winter season. The Maryland moving company has coupons that will save you $50 to $100 off your move, and coupons for students and seniors that will save them 3% on their total move. Also they have included the first month storage for free and all packing supplies in their price.
The owner of the Maryland moving company Moshe Hodara stated, "During the Holiday season people are always looking for ways to save money. And in this economy it's getting harder and harder to find good deals. With that in mind we thought we would help by offering these discount coupons. Because we know the strain the holidays puts on your budget and the strain of moving in the winter time, and we can help you with both."
Mashav Relocation is offering these coupons to help out the community in these hard economic times. They will be offering these coupons through the 2012 Holiday season into the beginning of January. After January they will put up new deals and discounts, so keep checking back.
About Mashav Relocation
Located in Beltsville Maryland, Mashav Relocation is recognized as one of the best and most trusted Maryland moving companies. Mashav Relocation is certified by Fairmove.com, a moving and shipping certification company, and is also a member of AMSA's (American Moving & Storage Association) ProMover program. Other affiliations include, the BBB (Better Business Bureau) and D.O.T. (Department of Transportation). They are a full service moving company that is fully licensed and insured.
For more information about Mashav Relocation and their coupons, please visit http://www.mashavrelocation.com/.