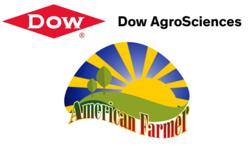 Indianapolis, IN (PRWEB) November 28, 2012
Dow AgroSciences is excited to announce its participation in an upcoming episode of American Farmer, produced by DMG Productions. The show will feature PhytoGen cottonseed company, an affiliate of Dow AgroSciences.
"I'm very excited to be able to share the story of PhytoGen, a fast-growing cottonseed brand that has become synonymous with advanced plant genetics and innovative traits for high-yielding cotton," said Charles Cowan, producer for American Farmer. "This product will help farmers from all over to be able to create faster, more efficient viable agriculture long-term."
The episode will focus on cotton's impact on the U.S. economy and rural life. PhytoGen will describe how its unique approach to cotton genetics and technology are meeting both grower needs and industry demands. The company's affiliation with Dow AgroSciences gives PhytoGen access to Dow AgroSciences' vast research and development resources.
"We're proud of the PhytoGen story and we're excited to share it with the audience of American Farmer," said Duane Canfield, general manager and portfolio marketing leader for PhytoGen cottonseed.
PhytoGen, an affiliate of Dow AgroSciences, offers cottonseed varieties with strong vigor, and consistently high yields with excellent fiber quality. The varieties have advanced, built-in plant protection options, such as two-gene WideStrike® Insect Protection, Roundup Ready® and Roundup Ready Flex. For more information on PhytoGen or 2012 varieties, call 800-258-3033 or go to PhytoGenYields.com.
About Dow AgroSciences
Dow AgroSciences, based in Indianapolis, Indiana, USA, develops leading-edge crop protection and plant biotechnology solutions to meet the challenges of the growing world. Dow AgroSciences is a wholly owned subsidiary of The Dow Chemical Company and had annual global sales of $5.7 billion in 2011. Learn more at http://www.dowagro.com. Follow Dow AgroSciences on Facebook and YouTube or subscribe to our News Release RSS Feed.
®PhytoGen is a trademark of PhytoGen Seed Company, LLC.
®WideStrike and DOW Diamond are trademarks of The Dow Chemical Company ("Dow") or an affiliated company of Dow.
About American Farmer:
American Farmer is a breakthrough program on a mission to showcase the latest advancements in agriculture and farming. From seed to harvest, livestock and more, our producers have traveled the country covering the people, places and issues impacting all areas of farm country. For more information visit: http://www.dmgproductions.org or call (866) 496-4065.
Media Contact:
Charlie Cowan, Producer
(866) 496-4065 x 875