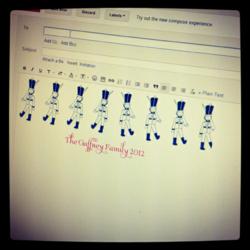 New York, NY (PRWEB) November 28, 2012
Holiday spending can be extremely stressful, especially with the economy as volatile as it is. With gifts for teachers, caregivers, tips at the salon, for the postman, sanitation workers and even the crossing guard, the holidays can make one feel like a human ATM. MeebleMail has a few ideas on how you can cut some costs.
1. E-Stationery & Cards – Send your holiday cards, invitations and letters with email stationery from MeebleMail.com. Sending paper cards can cost several hundred dollars or more depending on the style and quality of card, so send at least some of your holiday cards via email. Send a holiday update letter along with some photos of family throughout the year and buy a smaller number of paper cards to send to those friends who really don't use email. The cost for MeebleMail email stationery ranges from free to only $2.99 for a one year subscription of unlimited use, so it can really save a bundle.
2. Holiday Gift Exchange. If you have a large gathering of family or friends each year, do a gift exchange or swap and turn it into a game. The way it works is each adult buys a gift of a set value, $100 for instance. Then put all the wrapped gifts in a pile and each person chooses a number. The person who drew #1 selects a gift, then #2 can either steal #1′s gift or select a new one. If #1′s gift is stolen, then #1 gets to choose a new gift and so on. It's a lot of fun to play and the competitive nature can really come out. If competition isn't in the mix or if it's for kids buy one age appropriate gift and then have the pick a gift from the pile – without the snatching, of course.
3. Set a budget/gift limit. Set a limit on the number of gifts that are given as well as a price limit – not getting as many gifts can help with the clutter as well as your pocket!
4. Potluck. Potluck sounds a bit boring, but instead of taking on the burden of the holiday meals and parties – have friends and family sign up to bring different dishes so that everyone shares in the costs of the Holiday meal instead of just one family.
5. Shop the Sales, but don't get sucked in. Black Friday and Cyber Monday can really save a bundle, but the deals aren't always what they seem and it can be easy to get caught up in the shopping frenzy. To avoid that, make a list and stick to it - don't be tempted by seemingly great deals for things that aren't on your list or needed. It's also a good idea to do comparison shopping (especially for online shopping); for instance one toy website was offering 40% (with a limit of a $40 discount) and another site offered $25 off the same item – though the 40% sounds like a better deal, their starting price was much higher, so the price ended up coming out the same as the site with the "lower deal", even though the higher starting price also offered free shipping.