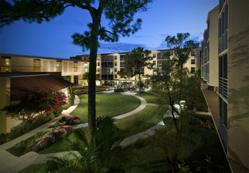 The deficiency-free rating is a reflection of our commitment to the care we provide.
Delray Beach, FL (PRWEB) November 28, 2012
Abbey Delray South senior living community in Delray Beach has achieved a deficiency-free score. For the fourth year in a row, the community received zero citations for quality care, and earned a national 5-Star rating from the Centers for Medicare and Medicaid Services (CMS).
The Agency for Health Care Admission (AHCA) comes unannounced every year, and conducts annual surveys at health care centers throughout the state of Florida.
"The deficiency-free rating is a reflection of our commitment to the care we provide," said David Randazzo, executive director for Abbey Delray South. "Our entire team at Abbey Delray South has been working diligently to exceed resident expectations. I'm proud that we've been recognized for our efforts."
With more than 200 regulations to follow every day, there's the potential to experience minor human errors, but the staff at Abbey Delray South proves that isn't the case and continues to take admissions even during the survey window.
"We have a great staff at the Health Center and they work hard every day to make sure our residents are happy." said Carolyn Bachonski, director of nursing for the Health Center.
Abbey Delray South's Health Center offers Life Care, including independent living and skilled nursing. In addition to serving residents, the Health Center also accepts direct admissions from individuals in Delray Beach and the surrounding area.
ABOUT ABBEY DELRAY SOUTH
Abbey Delray South, located at 1717 Homewood Blvd., in Delray Beach, Fla., is a community that provides seniors with a liberating lifestyle experience and a variety of residential options, including maintenance-free independent living apartment homes, garden homes and on-site skilled nursing care, if ever needed. Residents enjoy a full range of services and amenities, such as a library, hair salon, fitness center, heated swimming pool and Jacuzzi, art studio and Lifespace Communities' FitSix® wellness system. More information about Abbey Delray South is available by calling (561) 272-9600 or by visiting http://www.AbbeyDelraySouth.com.
ABOUT LIFESPACE COMMUNITIES
Founded in 1976, Lifespace Communities, based in Des Moines, Iowa, is a not-for-profit corporation that has grown to operate 12 continuing care retirement communities in seven states, serving more than 5,000 residents and employing 2,500 team members. Communities are located in Iowa, Minnesota, Kansas, Illinois, Nebraska, Pennsylvania and Florida. The organization is recognized by the LeadingAge Ziegler Top 100 as the seventh largest not-for-profit senior living provider system in the country. For more information about Lifespace and its communities, visit http://www.LifespaceCommunities.com.