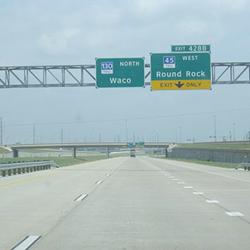 During the holiday season, the number of reported motor vehicle incidents nearly doubles. The increase is mainly caused from the increased traffic on the roadways.
Dallas, TX (PRWEB) November 29, 2012
In 1995, the US Government repealed a law that stipulated a 55 mph speed limit on all highways in the United States. Since then, 34 states have raised the speed limits to 70, 75 and even 80 mph.
On October 24th, 2012, the State of Texas opened a 41 mile stretch of Route 130 between Austin and San Antonio and posted a maximum speed limit of 85 miles per hour. A little over two weeks later, the day the highway started charging toll, it also claimed its first fatality. A 60 year old woman was killed as she tried to steer her car into the highway from the tool booth and collided with an oncoming vehicle. Unfortunately, vehicular accidents like this are likely to happen again and again, especially at increasingly higher speed limits.
Texas is the only state in the union with a highway that has a speed limit of 85 mph. The dangers to drivers on these roads are very real and immediate. Anything can happen at any speed, but the likelihood of an accident while traveling at 85 mph is incredible and the fatality rate exponentially increases with speed. Today's vehicles are heavily tested on safety, yet crashes at these rates of speed would most likely always be fatal.
It is estimated that these roads with high rates of speed have seen fatalities increase by as many as 15%. At 70 mph, the numbers go up a further 8.25% and, at 75 mph, fatalities have increased by more than 13%. Injuries have increased by as much as 8% in rural areas to 15% on urban roads with higher speed limits. There currently are no statistics regarding speed limits above 80mph.
The fact is that accidents will happen. Passenger vehicles get into hundreds of thousands of accidents every year. Of those, about 42,000 are killed - over 5,000 of them in accidents involving 18-wheelers. Also, the number of tractor-trailer trucks on the roads is expected to increase by as much as 20% over the next few years.
"During the holiday season, the number of reported motor vehicle incidents nearly doubles. The increase is mainly caused from the increased traffic on the roadways. All of us at Rad Law Firm, understand how hard it can be to manage the financial and medical consequences that follow a serious car wreck. We urge people not to wait and to contact us immediately." said Manuel G. Green, Attorney at Rad Law Firm.
If you have been involved in an accident on this or any other Texas highway and need a personal injury lawyer in Dallas, Fort Worth or Houston, there is something you can do. If your loved one has been lost to wrongful death as a result of an accident with an 18-wheeler truck or any other vehicle, don't just stand by and let them get away with it. Rad Law Firm is accomplished in getting their clients the results they deserve in lawsuits against irresponsible drivers. Clients come first, and our clients are satisfied with their results. Get your medical bills paid and receive the compensation you deserve if you have been a victim of an accident, vehicular or otherwise.
Rad Law Firm can help you in any situation. Don't let an irresponsible driver of a passenger vehicle or a commercial 18-wheeler stand between you and getting what is rightfully yours. Call Rad Law Firm today at (972) 661-1111 in Dallas, (817) 543-1999 in Fort Worth or (713) 590-1111 in Houston so that we can evaluate your case for free.
References
http://www.prnewswire.com/news-releases/semi-truck-accident-statistics-continue-to-rise-in-us-for-2010-116668889.html
http://www.census.gov/compendia/statab/cats/transportation/motor_vehicle_accidents_and_fatalities.html
http://www-fars.nhtsa.dot.gov/Main/index.aspx
http://www.autoevolution.com/news/number-of-semi-trucks-crashes-rises-in-the-us-31726.html