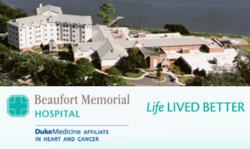 Meeting Meaningful Use is of course a priority for us," states Beaufort Memorial CIO, Ed Ricks. "But what we're really after is technology that makes it easier for our patients to engage in their own healthcare and wellness.
(PRWEB) November 28, 2012
Beaufort Memorial Hospital, one of the nation's Most Wired hospitals, and MEDSEEK, the provider of the healthcare industry's only enterprise strategic patient engagement platform, will work together to activate patients to be effective self-care managers of their health.
Recognized by Hospitals & Health Networks for using information technology to drive toward Meaningful Use, not-for-profit Beaufort Memorial Hospital is focused on improving the health of the community by providing quality care to all who need it. "Meeting Meaningful Use is of course a priority for us," states Beaufort Memorial CIO, Ed Ricks. "But what we're really after is technology that makes it easier for our patients to engage in their own healthcare and wellness. That was the key factor of why we chose MEDSEEK."
With the addition of the MEDSEEK Empowered solution, Beaufort Memorial Hospital is further expanding their patient engagement initiatives. The hospital currently utilizes MEDSEEK predictive analytics and targeted marketing to encourage patients to participate in health and wellness programs, attend appropriate screening events and see a primary care provider. Beaufort Memorial has experienced success in increased mammography screenings, office visits and attendance at educational events. "Enhanced patient knowledge that results in proactive steps toward health is invaluable to our community," says Courtney McDermott, Beaufort Marketing. Moving forward, these same marketing tools can also be used to increase awareness and adoption of the patient portal, moving closer to the Meaningful Use objectives for patient and family engagement.
By delivering a robust enterprise patient portal where users only need to remember one access methodology to interact with their health data, schedule appointments as part of a care plan and communicate with providers easily online, Beaufort Memorial Hospital is moving toward making patient centricity a reality. "Our strategic plan is to continually be more integrated with our data, our community and their health care," said Ed Ricks, Beaufort Memorial CIO. "MEDSEEK's vendor-agnostic approach to integration will equip us to not only offer a unified view of inpatient and outpatient information, but also the interactive tools for patient-provider collaboration."
The Beaufort Memorial medical staff also views the patient portal addition very positively, understanding the valuable implications that patient access to information and tools to manage their health is for their community and beyond. "Our primary driver is doing what's right for the community and for the physicians. That's what we're here for," confirmed Ed Ricks, Beaufort Memorial CIO. Peter Kuhn, MEDSEEK CEO agrees, "Beaufort Memorial Hospital and MEDSEEK are focused on patients, families and caregivers, providing the tools to help them become partners in health. With empowered patients participating in their care, we can truly improve the health of individuals and communities."
To gain further knowledge on how your healthcare organization can use patient engagement technology to enhance health-related loyalty and meet Meaningful Use, contact MEDSEEK at marketing(at)medseek(dot)com or 1.888.MEDSEEK.
About Beaufort Memorial Hospital
Beaufort Memorial Hospital opened in 1944 and is fully accredited by The Joint Commission, having a quality medical staff of more than 150 board-certified or board-eligible physicians. As the largest hospital between Savannah, Georgia and Charleston, South Carolina, Beaufort Memorial Hospital is committed to enhancing the health of the communities it serves. Beaufort Memorial Hospital has been recognized as one of the nation's Most Wired Hospitals by the Hospitals & Health Networks (HHN) publication for 10 years. Situated on the Atlantic Intercoastal Waterway, Beaufort Memorial Hospital is one of the few hospitals in the country with its own emergency dock.
About MEDSEEK
Since 1996, MEDSEEK has focused exclusively on creating a strategic patient engagement platform comprised of web, mobile, social and predictive analytic solutions designed to meet the unique needs of healthcare consumers and patients. Maximizing an organization's existing IT investments, MEDSEEK solutions improve patient access to health information and provide convenient, self-service tools that improve satisfaction, activation and health outcomes. With MEDSEEK, hospital and health system clinicians and employees can better predict the needs of their patient population, uncover new sources of revenue, empower patients and families as participants in their care, lower healthcare costs, and provide a superior online healthcare experience that results in lasting health-related loyalty. MEDSEEK has over 200 customers representing over 1,100 hospitals including many of the top hospital systems in the United States and Canada.