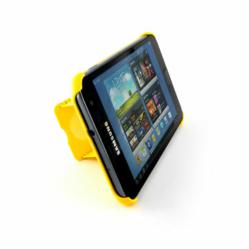 It is great honor to receive such an award and it will motivate us to continue creating more innovative products that people can enjoy."
New York, New York (PRWEB) November 28, 2012
Ken Oh Corporation today announced that it has been named an International CES Innovations 2013 Design and Engineering Awards Honoree for SmartSound Case in the Wireless Handset Accessories product category. Products entered in this prestigious program are judged by a preeminent panel of independent industrial designers, engineers and members of the media to honor outstanding design and engineering in cutting edge consumer electronics products across 29 product categories.
Here's a special case study (pun intended!) – the SmartSound Case. What's so special about just another smartphone case? Well, our patented design is so revolutionary that the SmartSound Case is the first ever smartphone case that provides passive amplification of the sound from the phone's speakers without any need for an external power source.
Often, you find yourself in situations where the loudest setting on your smartphone is not loud enough due to ambient noise, source material volume limit, or both. This is where the SmartSound Case shines –open up the kickstand and the sound is instantly amplified by the stand which acts like a horn speaker.
This built-in kickstand may be the quickest unfolding yet durable smartphone kickstand in existence – a perfect complement for using Skype and FaceTime, or watching videos on Netflix or YouTube… all the while you enjoy the sound naturally amplified by the SmartSound Case's ingenious design
Unique Additional Features includes Camera Flash Reflector that maximizes the brightness of the flash when taking pictures or used with a flashlight app and Detachable Camera Lens Cover (imprinted with animal characters) that protects from fingerprints, scratches and dust. Our product can be customized for major smartphone brands.
Ken Oh, CEO of Ken Oh Corporation noted, "It is great honor to receive such an award and it will motivate us to continue creating more innovative products that people can enjoy."
The prestigious Innovations Design and Engineering Awards are sponsored by the Consumer Electronics Association (CEA)®, the producer of the International CES, the world's largest consumer technology tradeshow, and have been recognizing achievements in product design and engineering since 1976.
Ken Oh Corporation's SmartSound Case will be displayed in The Venetian 3 Lvl-75102 at the 2013 International CES, which runs January 8-11, 2013 in Las Vegas, Nevada. Honorees will also be displayed at CES Unveiled: The Official Press Event of the International CES from 4-7 p.m. on Sunday, January 6 in the South Seas Ballroom C at Mandalay Bay.
The Innovations entries are judged based on the following criteria:

Engineering qualities, based on technical specs and materials used
Aesthetic and design qualities, using photos provided
The product's intended use/function and user value
Unique/novel features that consumers would find attractive
How the design and innovation of the product compares to other products in the marketplace
Products chosen as an Innovations honoree reflect innovative design and engineering of the entries. Examples may include the first time various technologies are combined in a single product or dramatic enhancements to previous product designs.
Innovations 2013 Design and Engineering honoree products are featured on http://cesweb.org/Awards/CES-Innovations-Awards.aspx, which lists product categories, as well as each product name, manufacturer information, designer, description, photo and URL.
SmartSound Case can be contacted at:
Austin Oh
Phone: (213) 747-7797
kenohcorporation(at)gmail(dot)com
http://www.smartsoundcase.com