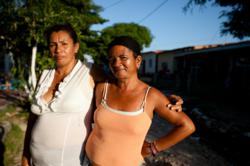 "The state must recognize the responsibilities it has towards us," says Mendoza. "We aren't here because we wanted to be, or because we wanted a change in our lives. We're here because of what happened to us."
New York, NY (PRWEB) November 28, 2012
As representatives of the Colombian government and FARC rebels continue their negotiations in Cuba to end nearly 50 years of civil war, the International Center for Transitional Justice is releasing the short documentary Voices of Dignity to highlight victims' rights to truth and reparations.
The 20-minute film tells the story of two courageous women, Yoladis Zúñiga and Petronila Mendoza, who are organizing with other victims in their community of Barranquilla to address the legacy of crimes they have suffered. The film follows their struggle to provide for their families and deal with the impact of trauma on their lives, all the while working with others to have their voices heard by the government.
"The state must recognize the responsibilities it has towards us," says Mendoza. "We aren't here because we wanted to be, or because we wanted a change in our lives. We're here because of what happened to us."
Today, over four million people in Colombia are affected by the armed conflict. Hundreds of thousands of civilians have been victims of mass killings, displacement, forced disappearances, kidnappings, sexual violence, and other serious crimes.
Zúñiga and Mendoza experienced firsthand the violence in their country; both of their husbands were killed by paramilitaries. In Mendoza's case, her husband, Luis, was shot dead on her front doorstep. Yet it is the strength and determination of these women to rebuild their lives and support other victims that shine through in this film.
"I want to know the truth," explains Mendoza. "Their obligation is to tell the truth."
With this documentary, ICTJ strives to break the stereotype of victims as passive actors in a transitioning society. Instead, it shows the powerful, intimate world of victims as leaders, while revealing many of the long-term consequences of the armed conflict on their day-to-day lives: economic instability, displacement from their homes, and the lasting psychological and physical effects of emotional trauma, including on their children.
Colombia's Victims' Law, passed in June 2010, aims to provide comprehensive reparations to victims through individual and collective measures. But due to the large scale of the crimes committed against civilians, implementation has been complicated.
"When we hear the stories of people like Petronila and Yoladis, we realize that victims are not numbers. They are people with flesh and blood, with great dignity, who have a clear view of the steps that Colombia must take to respond to their right to compensation. Their voices should be heard so that state reparations programs can meet their needs," says Maria Camila Moreno, head of ICTJ's Colombia Office.
ICTJ has provided long-term support to civil society and victims' organizations in Colombia to help ensure their input is considered on relevant policy decisions, while advocating for an integrated approach to truth-telling and justice in a country with a long history of systemic human rights violations.
More relevant than ever, Voices of Dignity underscores the recognition that the protection of victims' rights is an essential element of any lasting peace agreement in Colombia. The documentary was produced by ICTJ, with the support of the Fundación Infancia Feliz and funds from the Embassy of the Netherlands and the Swedish International Development Cooperation.
About ICTJ
The International Center for Transitional Justice works to redress and prevent the most severe violations of human rights by confronting legacies of mass abuse. ICTJ seeks holistic solutions to promote accountability and create just and peaceful societies. For more information, visit http://www.ictj.org.