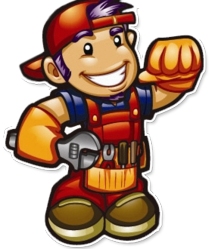 Owner of Checkered Flag Plumbing donates 12 inch ponytail to Locks of Love
Los Angeles, CA (PRWEB) November 28, 2012
Locks of Love is a non-profit organization that has been helping children who suffer from long-term medical hair loss since 1998. These children may have lost their hair due to burns, head injuries, radiation treatment, or the mysterious and incurable condition alopecia areata. What they all have in common is the need for a quality hairpiece that will restore their self-confidence and enable them to feel like a normal, carefree kid again.
Locks of Love provides vacuum-fitted hair pieces to children who could not otherwise afford them, saving these children from the hassle, discomfort, and embarrassment of ill-fitting hairpieces that require tape or glue. A single Locks of Love wig takes 4-6 months to create and uses between 6 and 10 donated ponytails.
As the owner of a service-oriented, family-owned and operated business, the owner of Checkered Flag Plumbing® The Drain Dudes® says it feels natural for him to seek out ways to be of service in his personal life as well. After all, Checkered Flag Plumbing®'s business values of social and environmental responsibility come out of his own core belief system.
The Drain Dudes® of Checkered Flag Plumbing® pride themselves on always leaving a situation better than they found it. Naturally this means fixing plumbing problems from clogged drains in Los Angeles to blocked sewer lines in Los Angeles and cleaning up after themselves afterwards. However, it also involves showing kindness and respect to customers, so that every individual who encounters a Drain Dude® on his daily rounds feels like their own day just got a little bit better.
A big part of Checkered Flag Plumbing®'s business revolves around drain cleaning in Los Angeles. Regular professional drain cleanings can help prolong the life of plumbing systems by keeping them clean and free of damaging roots, clogs, and corrosive agents. This reduces wear and tear on the system and prevents catastrophic problems later on. With preventative services so important on the business end of things, it was natural for the owner of Checkered Flag Plumbing® The Drain Dudes® to look into community service opportunities that also had a preventative aspect. He believes that by donating to Locks of Love now, he can help a child prevent the mental scars they might otherwise develop due to their hair loss.
This means his visit to the salon will be more than just one-time act of charity, but instead a decision that will make a huge, ongoing difference in the life of a needy child.
Call the Drain Dudes today at 1-877-700-0160 or visit us at http://www.draindudes.com