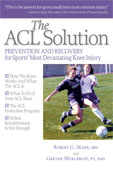 "This is a must-read for all athletes, coaches, trainers, and physicians."
—Russell F. Warren, MD,
Surgeon-in-Chief Emeritus, Hospital for Special Surgery; Team Physician, New York Giants
New York, NY (PRWEB) November 29, 2012
An estimated 150,000 Americans suffer ACL injuries each year in the United States. A growing number of them are female athletes. While we know there is a huge increase in injuries in females compared to males, we don't have all the answers as to why yet.
What do we have? A program to prevent ACL injuries before they happen.
In The ACL Solution, renowned orthopedic surgeon Robert G. Marx and physical therapist Grethe Myklebust present a practical and effective prevention program for all athletes, both professional and amateur, that can be easily incorporated into a regular warm up routines.
For those unfortunate enough to suffer from an ACL injury, there is ample advice on the available treatment options.
Author Credentials: ROBERT G. MARX, MD is an orthopedic surgeon at the Hospital for Special Surgery in New York City. GRETHE MYKLEBUST, PT, PhD is a specialist in Sports Physiotherapy in Oslo, Norway
Availability: Nationwide by arrangement and via telephone.
About Demos Health: In September, 2007, Demos Medical Publishing launched the imprint Demos Health, to further the company's mission of bridging the gap between consumers and the health care community, and to provide the most up-to-date information on a wide range of health-related topics. Demos Health aims to provide the highest quality books on the consumer health market.