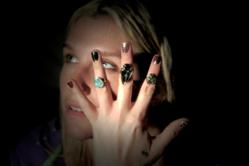 "I always want to be true to my own style and jewelry is something I obviously wear ALL the time." Says Ke$ha about the inspirations for Ke$ha Rose by Charles Albert
Ft. Lauderdale, Florida (PRWEB) November 28, 2012
Charles Albert® is thrilled to announce Kesha Rose by Charles Albert®, a new jewelry line, in collaboration with pop music sensation, Ke$ha, who is also gearing up to release her much anticipated second album, Warrior.
Kesha Rose by Charles Albert will maintain the Charles Albert® brand's high-quality and contemporary aesthetic, while reflecting the singer's distinctive personality throughout the collection. Known for her unique wardrobe choices, the jewelry will reflect that edgy and raw look by featuring skulls, arrowheads, fossilized shark teeth and metal-cast human teeth. These materials mixed with turquoise and other natural stones were personally selected by the musical star. "The design process was so fun. Charles and Beth and their whole team are so collaborative and always a good time to work with. Going to their office was like a crazy playground for me – so many fun stones and colors and weird objects. We just sat around and played with all of it for a few days and ended up with a sick collection of pieces in the end. I could not be more excited", said Ke$ha of the design process.
Ke$ha has worn Charles Albert® at the MTV VMA's and other high-profile red carpet events through the years. Charles says, "She wears our pieces well and we have always been a fan of her eclectic style. So naturally, when this partnership for Kesha Rose by Charles Albert came about we just felt it was an organic fit." The feeling is a mutual one, "I have been wearing Charles Albert for a few years now and I'm obsessed with their jewelry. It's so fun, and massive, and makes such a wild statement. I didn't know Charles himself until we started working together, but once we did I realized how amazing this partnership would be because of how similar our vision and aesthetic are", Ke$ha says of the jewelry designer.
The new line will be comprised of 5-7 collections containing statement necklaces, earrings, unique pendants, chunky bracelets, oversized knuckle rings and medi-rings. The jewelry will range in price from $30 to $750, with most pieces retailing under $100 to make the collection accessible to Ke$ha's fan base. According to the singer, of the line, "There will be something for everyone!"
Kesha Rose by Charles Albert will launch in late summer 2013 in anticipation of fall fashions and will be available in August at stores and online at Charlesalbert.com
About Ke$ha: Global superstar Ke$ha has taken the world by storm since the release of her debut album in Animal in 2010. That year she was declared Billboard's Hot 100 Artist and her smash debut single "TiK ToK" was named Billboard's #1 Hot 100 Song, was the most played song of that year, and was the biggest-selling digital track in the world. Ke$ha has had 6 consecutive Top 10 hits including three #1 singles: "TiK ToK", "Your Love Is My Drug" and "We R Who We R." Her debut album Animal has sold over 2.5 million units worldwide. Ke$ha has toured the world, playing over 200 live shows in support of Animal and its companion album Cannibal. She took home the MTV EMA for Best New Act in November 2010 and was nominated for 2 American Music Awards, 3 MTV VMA Awards and 6 Billboard Awards. She has performed on dozens of television programs all over the world including MTV Europe Music Awards, Much Music Awards (Canada), Echo Awards (Germany), X Factor (Australia), American Music Awards, Billboard Awards, American Idol, Saturday Night Live and The Today Show Summer Concert Series. She has over 22 million Facebook likes, over 3 million Twitter followers and over 330 million views on VEVO. She has sold over 27 million combined tracks and ringtones in the U.S alone and over 34.5 million worldwide to date. Ke$ha is an international powerhouse, Animal has been certified Gold, Platinum or multi-Platinum in 15 markets (including Platinum in the United States) and was the biggest selling debut album from an international female in 2010 in the UK. On November 20th, 2012 Ke$ha will release her first book through Touchstone Publishing. The full-color photo journal/scrapbook entitled My Crazy Beautiful Life, sheds light on Ke$ha's hectic, non-stop life on tour and will provide an exclusive look into the creative process of her forthcoming album, Warrior. Ke$ha was also recently named the first global ambassador for Humane Society International.
For more information visit: http://www.keshasparty.com
About Charles Albert: Charles Albert, Inc. was founded in 1990, and over the years the brand has rapidly evolved into one of the premier manufacturers of unique, high-quality, jewelry. Every piece is meticulously handmade, using a wide variety of unusual stones from every corner of the globe. Charles Albert® jewelry is frequently spotted on the red carpet and fashion magazines. A continuous search for rare and exotic stones has helped the brand become one of the leading trendsetters in the industry. For more information, visit: http://www.charlesalbert.com