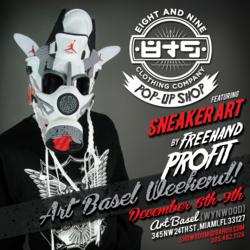 Miami, FL (PRWEB) November 28, 2012
8&9 Clothing a Miami based streetwear company has announced a four day Pop Up Shop during the peak of the 2012 Wynwood Art Basel. The Pop Up Shop will be held at a private gallery in Wynwood, 345 NW 24th Street. 8&9's Winter '12 collection will be on sale and the Miami streetwear brand is promising a lot of unreleased pieces their devoted following hasn't seen.
Freehand Profit, well known sneaker destroyer or one of a kind gas mask creator (depending on your perspective) will be highlighting the event with live art, sneaker mask gallery and book signing. His latest creation, Army Of The Undeadstock is his first book featuring 250 pages of art, sneaker gas masks accompanied by Haiku's from San Diego poet B(e) Selah.
The 4 day event commences with a Thursday meet and greet streaming live at universemiami.com plus Freehand Profit book signing and sneaker mask display. 8&9 Pop Up Shop is open Thursday 6-12, Friday 4-12, Saturday 12-12 and Sunday 12-8. For more information log on to 8and9.com follow @8and9 or @freehandprofit