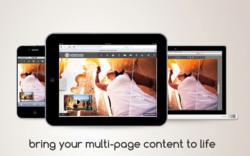 It's important that we as businesses and consumers don't lose sight of how this widespread tablet adoption is impacting the sustainability of our natural resources and environment
Toronto, Canada (PRWEB) November 28, 2012
Tablets are flying off the shelves this holiday season, but what are the implications on the environment with such rapid growth in tablet adoption? According to a new infographic by Uberflip titled The Sustainability of Tablets, the growth of tablets is causing a steep decline in the use of paper, a reduction in carbon dioxide emissions, and a decrease in water consumption for the production of electronic devices.
"All signs point to tablets being the hottest gift around this upcoming holiday season. The frenzy has already begun with Black Friday and Cyber Monday," explains Neil Bhapkar, Director of Marketing at Uberflip. "It's important that we as businesses and consumers don't lose sight of how this widespread tablet adoption is impacting the sustainability of our natural resources and environment."
The infographic also touches on causes for concern, such as the often forgotten e-waste issue. As old devices become obsolete at an accelerated rate, e-waste generation is increasing 2-3 times faster than any other waste stream.
Other key takeaways of the infographic:

79% of tablet users say that the reduction in printing is the main benefit of using a tablet.
By 2025, global e-waste will double to 25 million tons per year.
It takes about 7 gallons of water to produce an average printed book, while an e-book can be created with less than 2 cups of water.
An iPad produces an average 2.5 grams of carbon dioxide per hour. A regular 60-watt incandescent light bulb generates around 48.4 grams of carbon dioxide per hour.
Sources for the visual include World Wildlife Foundation, Morgan Stanley Research and Greenpeace.
About Uberflip:
Uberflip makes it easy to enhance, share, and track PDF content on tablets and other devices. Within minutes, documents are converted into page turn experiences where leveraging links, video and social media integration is just the beginning. Uberflip's solutions help companies save costs and make money through new marketing channels. To see Uberflip first-hand, view their monthly newsletter Going Digital.