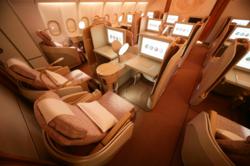 Business class provides comfort and luxury
San Francisco, CA (PRWEB) November 28, 2012
I Fly First Class announces new business class flights to Europe.
A long flight can test the patience of even the most seasoned traveler. A lack of leg room, noisy fellow passengers and mediocre food and service are hardly an ideal way to start a vacation or a business trip. That's why an increasing number of travelers are choosing to fly business class.
Business class provides a number of perks and amenities that simply aren't available to coach or economy passengers. For instance, business class provides ample leg room and the seats often recline fully, perfect for a trans-Atlantic flight to Europe. Additionally, the amenities in business class are several notches above those offered in coach. Service is more personalized, the food is of a superior quality and there are simply better opportunities to relax and enjoy the experience.
When looking for a business class flight to Europe, it's important to note the type of plane that will be making the flight. Larger aircraft like the Boeing 777, 767 or 747 along with the Airbus A330 and A340 feature wider bodies that can accommodate a middle aisle of seats. Because these airplanes are so much larger than other aircraft they generally offer a plusher, more luxurious business class experience.
Of course, even on other airplanes, the business class experience is still superior to that of the coach experience. It begins long before the flight even leaves the terminal with valuable perks like expedited check in. Business class travelers frequently also have access to an exclusive airport lounge area. The lounge is the place to settle in to get some work done or read a book. It's a quiet area that's closed off to the public. It's possible to enjoy a drink or a light snack. Some airlines even provide massage services to help their passengers relax before their flight. Many business class passengers will also receive an in-flight drink voucher to help make their travel experience that much more rewarding.
Flying to Europe can require several hours, which makes it important for passengers to be as comfortable as possible. Comfort is precisely what business class provides. From enhanced leg room to fully reclining seats, business class makes it possible for passengers to enjoy a little extra elbow room and privacy. Whether they are traveling for business or pleasure, business class passengers are better able to get some work done or just get started on relaxing.
Your dream vacation is just seconds away with affordable first class and business class airline tickets from I Fly First Class. Our growth continues because it is rooted in quality service, a good reputation, and routinely exceeds customer expectations. Earning the trust of our customers with a commitment to excellence, places I Fly First Class at the forefront of this competitive industry.