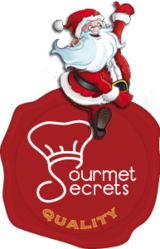 the best food the world has to offer can be sent to friends and loved ones anywhere in Canada
Canada, United States (PRWEB) November 29, 2012
Gourmet Secrets has come up with the perfect solution to gift-giving this Christmas! Thousands of people from Canada and the U.S. are thrilled to treat every Canadian on their list with the gift of gourmet food!
With Gourmet Secrets latest exciting promo, the best food the world has to offer can be sent to friends and loved ones anywhere in Canada, the shipping is FREE!
Gourmet Secrets extensive and easy to use website showcases an array of delicious gourmet items, from appetizers, like pizza fingers, mozza sticks and liver pâté, to desserts, like cheesecakes, butter bars and chocolate french crepes, and everything in between: steaks and roasts, chicken breasts and chicken wings, pork chops and baby back ribs, shrimps, scallops, lobster and crab, healthy fish and a huge choice of prepared and specialty items for all tastes. In fact, more than 250 items from all over the world to choose from! It is a breeze to pick the perfect list of delicious food for loved ones and let Gourmet Secrets take care of all the shipping hassle for FREE anywhere in Canada! Many people have already opted for this new and fun way to do their Christmas shopping!
Gourmet Secrets has taken the joy of giving to a new level: this fantastic Christmas Trio Promo includes a free gift of a value of $47.99 (4x6oz celiac friendly angus patties, 3x5oz free range boneless chicken breasts and 2x8oz french cut pork chops), free shipping and a $40 Christmas discount! It is giving and receiving in one easy, stress free and fun gift shopping! Sending gifts to loved ones in Canada has never been so easy!
Visit our link to get started!
http://www.gourmetsecrets.ca/promo.php?id=3
This offer ends on November 30th, 2012.