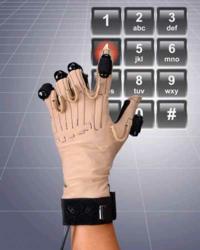 San Jose, CA (PRWEB) November 29, 2012
There continues to be the development of new and fascinating ways to use immersive 3D technology, especially involving haptic solutions. MillieModels LLC, a Service Disabled Veteran Owned Small Business in Huntsville, AL, successfully demonstrated the new potential of 3D technology using a CyberTouch haptic glove, a no-glasses Aliscopy Autostereoscopic monitor, a Microsoft Kinect system, and a custom built computer to show a proof of principle training simulation to members of the Army's PEO Aviation Department in Redstone Arsenal, AL.
At the presentation Donathan Hutchings, MillieModels' COO, was able to successfully demonstrate the possibility of training Army mechanics working on the Modernized Target Acquisition Designation Sight/Pilot Night Vision Sensor unit in an immersive 3D setting instead of the traditional classroom or field setting, thus lessening the cost of training. Excitement filled the room as attendees witnessed Mr. Hutchings manipulate a 3D M-TADS/PNVS with a CyberTouch haptic glove. A guest in attendance was shocked that the presentation was a proof of principle and not a final product.
CyberGlove Systems and Millie Models, in partnership with Tec-Masters, will be demonstrating this technology at the ITSEC Conference in Orlando, Florida from December 3-6 at Booth # 501.