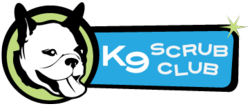 Not Your Average Neighborhood Dog Wash. Not Your Average Online Dog Store.
San Francisco, CA (PRWEB) November 27, 2012
K9 Scrub Club, San Francisco's neighborhood dog wash and premium pet store will be sponsoring and attending the 2012 Holiday Photo Bash + Bazaar to be held at San Francisco's Pawsitive Tails.
Pawsitive Tails offers a "paws-on" approach to animal behavior, training and care. Their training utilizes the best positive reinforcement methods to achieve outstanding results in pet behavioral training. Praised by customers and critics alike as the best dog training facility in the Bay Area, Pawsitive Tails stands in a class of its own.
Kira Stackhouse of Nuena Photography will be conducting the holiday pet photos, so all you have to do is dress your pet up for the photo session and show up. There are two photo packages available: $25 for a 5x7 print (mailed) and a web-friendly image (emailed) or $40 for an additional image that is high resolution, also mailed. Photos will be on a first come, first served basis so arriving early is recommended.
There will also be a raffle featuring great items from local artists and businesses, including K9 Scrub Club, with the proceeds benefiting the Greater Rural Rescue Society – an organization dedicated to rescuing animals in need and helping the public find affordable means to vaccinate and/or spay-neuter their pets.
Other local sponsors will include BayWoof, Scutte, Demiknits, Paw Patch Pastries, A Bit of Collar and more. Each will have information, items for sale and other fun things to exhibit. The event promises to be fun for both people and their pets.
Location, date and time are listed below:
Sunday, December 2, 2012
1:30pm to 4:30pm
Pawsitive Tails
1255 22nd Street
San Francisco, CA 94107
415 834-5140
pawsitivetails(at)gmail(dot)com