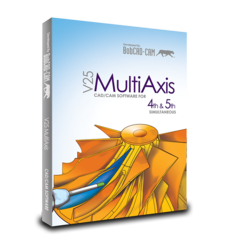 Clearwater, FL (PRWEB) November 28, 2012
Tomorrow BobCAD-CAM, Inc. will introduce its new MultiAxis software to the racing and automotive industry at the Performance Racing Industry Trade Show, the largest racing trade show in the world.
Located at the Orange County Convention Center in Orlando, FL, the trade show will cover over 700,000 square feet with over 1000 vendors on display. Attendees can expect to see new racing products, race engineering, rare electronics, safety gear, and more.
BobCAD Account Manager Jeff Lemen will present "Crossing the Finish Line with BobCAD-CAM" in meeting room S 230 D on Friday, November 30, from 12:30 – 3:00 p.m. His seminar will provide racing industry professionals with a more in-depth look at BobCAD software and its applications. He will also be available to answer questions at the end of the presentation.
Visit BobCAD at booth #4199 any time during the trade show to chat with a demo technician or sales representative. The demo technicians will be available to answer all cnc machining software questions and the sales representatives will help you find the best CAD/CAM software package bundle at the best price for your racing business or hobby.
The demo technicians will provide software demonstrations of V25, the newest version of BobCAD's CAD/CAM technology for CNC machining and part programming, including CAD/CAM for:

2, 3, 4 and NEW 5 Axis Milling
CNC Routing, WaterJet, Laser and Burning
CNC Turning
Artistic CAD/CAM
Part Nesting & Sheet Optimizing
You can find more information on the tradeshow by visiting PRI's website at http://www.performanceracing.com. For more information on the new BobCAD-CAM V25 CAD/CAM software contact them directly at 877-262-2231 today or download a free trial version on the website.