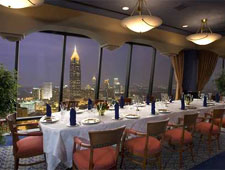 This past year has been a good one for us. We have worked hard to provide exceptional services to our patients and to refine and grow our skills as professionals
Marietta, GA (PRWEB) November 29, 2012
Marietta cosmetic dentist Kirk Kimmerling DDS is happy and pleased to announce his annual Christmas holiday party. The party will take place on Saturday, December 22, 2012, at the Atlanta Hilton, and will be an occasion for celebration with Dr. Kimmerling and his staff. Dr. Kimmerling's practice, which is known for its cutting-edge technology, patient-friendly services, and dedicated team of dental professionals, is also known for its commitment to celebrating joyous occasions such as birthdays and holidays. This year's Christmas party will be no exception.
The familiar faces at Dr. Kimmerling's practice, which includes skilled hygienists and dental assistants as well as the friendly and dedicated front staff, will attend the holiday party at the Hilton. Many of them have expressed their excitement for a night of celebration with their coworkers, featuring world-class food and the beautiful Hilton venue.
"Our dental team is very excited to celebrate the holiday season together," said Dr. Kirk Kimmerling DDS. "This past year has been a good one for us. We have worked hard to provide exceptional services to our patients and to refine and grow our skills as professionals. I am so looking forward to celebrating the holidays with my talented and committed team."
Kirk Kimmerling DDS continues to draw a devoted patient base from all over the metro Atlanta area. It is one of the premiere dental offices in the state of Georgia, in part because of its commitment to using the newest, most advanced, most innovative products in dentistry, but also because of its friendly and committed team of dental professionals and staff. Dr. Kimmerling offers routine cleanings, cosmetic dentistry services, dental veneers, dental implants, teeth whitening, and a host of other dental services, and is always thrilled to welcome new patients.
Kirk Kimmerling, DDS and Suzanna Aguilera, DMD are Marietta dentists that are literally paving the way for the future of dentistry. The office is technologically sophisticated in not only equipment and procedures, but also developing dental materials via Kimmerling Holdings Group, LLC and fiteBac SkinCare, LLC, Dr. Kimmerling's biotechnology firms. The office maintains 13 operatories, each of which is equipped with a display monitor on which digital x-rays and intra-oral pictures can be examined, and patient education videos can be viewed. The office also employs highly advanced technologies, including: (1) Logicon, a program that can digitally measure the extent of tooth decay, which allows detection of 20% more cavities and helps prevent misdiagnosis; (2) "Collimators," a conduction of x-ray tube heads that decrease radiation exposure to the patients and staff by 5-fold; and (3) iTero, an advanced restoration impression system and digital scanner that produces more accurate restorations than traditional methods. The overall well-being of each patient can also be improved by adding a DNA salivary test, which allows the office professionals to better determine a patient's specific risk of periodontal disease as well as certain types of oral cancer. The office is the first to use fiteBac SkinCare Germicidal Hand Softening Gel, an advanced hand sanitizer without the harshness to skin from traditional alcohol-based hand sanitizers. Drs. Kimmerling and Aguilera, emergency dentist Marietta, GA invite new patients to meet their exceptional staff and experience and benefit from state of the art dental care. The Marietta emergency dentist offers a broad range of services from teeth cleaning, teeth whitening to veneers and Marietta dental implants and Marietta root canals. Interested new dental patients may receive a $100 coupon for services on the website by clicking, Marietta emergency dentist.