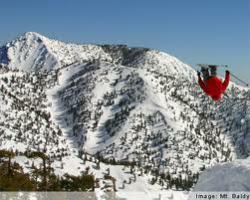 Total of 26 runs and different terrains!
Largest and steepest resort in Southern California
New 900 million gallon snow making reservoir!
Los Angeles, CA (PRWEB) November 29, 2012
Hit the slopes with today's dealgrind for over half off! Mt Baldy is the largest and steepest resort in Southern California. Mt Baldy offers all levels of skiing and boarding from the very beginner to the steepest vertical drop in Southern California. 26 Runs Spanning 3 Mountains covering 800 acres with 2,100 Vertical feet. Only at Mt Baldy you get the full experience. click here to get this deal
Mount San Antonio, commonly known as Old Baldy or Mt Baldy, at 10,068 ft (3,069 m), is the highest peak in the San Gabriel Mountains, and the highest point in Los Angeles County. Mount San Antonio's sometimes snow-capped peaks are visible on clear days and dominate the view of the Los Angeles skyline.
Mount San Antonio has two peaks: the main peak, elevation 10,068 feet (3,069 m), and a sub-peak, West Baldy, at 9,988 feet (3,044 m). Nearby are San Antonio Creek and San Antonio Falls. The creek descends through a gorge and has several waterfalls, the last about 75 feet (23 m) high.
Mt Baldy Ski Lifts, or "Baldy" for short, is a family owned and operated ski resort located in San Bernardino County, California, on Mount San Antonio (AKA Mt Baldy). The resort is run by the Ellingson family. The ski resort features traditional runs, open bowls, chutes, and tree runs; and claims to be "The largest and steepest resort in Southern California," with 26 runs spanning 3 mountains featuring a peak elevation of 8,600 ft (2,600 m). Baldy spans 800 acres (320 ha) with a 2,100 ft (640 m) vertical drop, and is located just 45 mi (72 km) from Los Angeles, making it the closest resort to the city.