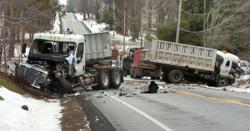 It's a tough job, and staying healthy can be difficult, but letting drivers know that eating well can save lives could help everyone.
Portland, OR (PRWEB) November 29, 2012
Earlier this month, Science Now published an article by Stephen Burks of the University of Minnesota-Morris in which he outlined the study he and his team conducted to determine how drivers' BMI related to truck crash rates. The Portland truck crash attorneys of Shulman DuBois agree that the subject warrants more research, but that the study also shows a need for further education of truck drivers about the risks of obesity.
The truck accident study, which started over two years ago, followed 744 rookie truck drivers after calculating their body mass index. Interestingly, the author of the study, behavioral economist Stephen Burks, is a former truck driver himself, according to an article in ScienceNOW.
The study showed the following results:

During the two years, drivers with a BMI over 35 ("severely obese") were 43-55% more likely to crash than those with a normal BMI.
Drivers in the "obese" category of the BMI scale do not appear to be at higher risk than those within the normal BMI.
But it's not as simple as it sounds, Sean DuBois, a Portland truck accident lawyer, warns. "There are so many other problems related to weight that could be the real cause of increased crashes. Being overweight is related to many other health concerns, including sleep apnea and diabetes."
DuBois suggests that perhaps implementing health and nutrition education into truck driver training could help decrease the number of Oregon truck accidents. "It's a tough job, and staying healthy can be difficult, but letting drivers know that eating well can save lives could help everyone."
According to Department of Transportation statistics, there were over 123,000 large trucks involved in non-fatal crashes in 2008, and almost 50,000 injury crashes.
Interestingly, many crashes are caused by passenger car drivers, not truck drivers. Portland truck accident attorneys know that drivers need to be more careful, but it doesn't change the fact that some crashes are still caused by truck drivers and that the rate of fatigue and sleep disorders among truck drivers is higher than among the population at large, according to NHTSA research.
About Shulman DuBois LLC:
The Portland truck accident injury law firm of Shulman DuBois LLC, is based in SE Portland, OR. Partners Joshua Shulman and Sean DuBois specialize in auto accidents, including injuries from trucks, cars, and motorcycles as well as bicycle accidents, pedestrian accidents, and wrongful death cases. For a free consultation, call 503-222-4411 or contact us at http://www.portlandpersonalinjuryaccidentlawyer.com.