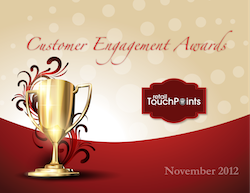 Hasbrouck Heights, NJ (PRWEB) November 28, 2012
Retail TouchPoints (RTP), the industry's go-to source for customer engagement strategies, today announced winners of the Customer Engagement Awards, which recognizes 11 retail companies that showcased innovative solutions throughout 2012.
Today's leading retailers strive to communicate a consistent brand experience across all consumer touch points and delight shoppers with the right products at the right price, delivered to their destination of choice at the right time.
"There is no question that the customer is now in charge of the shopping experience," said Debbie Hauss, Editor-In-Chief at Retail TouchPoints. "Retailers are working to meet the needs of today's demanding shoppers by incorporating innovative strategies and technologies into their stores and online. We're proud to honor companies that have embraced customer engagement and implemented solutions and services that are achieving business success in this increasingly competitive and challenging marketplace."
Through a nomination process, the winners were selected based on, but not limited to, four specific criteria:
*Unique shopping/promotional offerings
*Customer engagement strategies
*Customer analysis
*Technology innovation
The 2012 Winners List is as follows:
Build-A-Bear
Chico's
Guitar Center
Macy's
Kobo
L'Occitane
Lenovo
Procurator
Specialty Fashion Group
Sports Authority
Tourneau
A complimentary copy of the 2012 Customer Engagement Awards Report in pdf form is available for download here: http://f9e7d91e313f8622e557-24a29c251add4cb0f3d45e39c18c202f.r83.cf1.rackcdn.com/Customer_Engagement_Awards_Nov_2012.pdf
About Retail TouchPoints
Retail TouchPoints is an online publishing network for retail executives, with content focused on optimizing the customer experience across all channels. The Retail TouchPoints network is comprised of a weekly newsletter, category-specific blogs, special reports, web seminars, exclusive benchmark research, and a content-rich web site featuring daily news updates and multi-media interviews at http://www.retailtouchpoints.com. The Retail TouchPoints team also interacts with social media communities via Facebook, Twitter and LinkedIn.