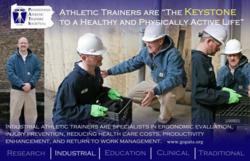 "Athletic Trainers no longer work in only the traditional high school, college and professional settings. We can work anywhere there are physically active individuals" Yvette Ingram PhD, LAT, ATC President of the Pennsylvania Athletic Trainers' Society
Lock Haven, PA (PRWEB) November 29, 2012
With Act 123 and 124 taking effect on February 20, 2012, Athletic Trainers are now licensed health care providers within the Commonwealth of Pennsylvania. This has prompted many individuals to ask the question "Who are Athletic Trainers and what can they do?" Athletic trainers (ATs) are health care professionals who collaborate with physicians to optimize activity and participation of patients and clients. Athletic training encompasses the prevention, diagnosis, and intervention of emergency, acute, and chronic medical conditions involving impairment, functional limitations, and disabilities.
Typical patients that ATs work with include:

Recreational, amateur, and professional athletes
Individuals who have suffered musculoskeletal injuries
Those seeking strength, conditioning, fitness, and performance enhancement
Others delegated by the physician
Some places athletic training services are provided include:

Athletic training facilities
Schools (K-12, colleges, universities)
Amateur, professional and Olympic sports venues
Clinics
Hospitals
Physician offices
Community facilities
Workplaces (commercial and government)
Working under a physician's direction, ATs have the unique ability as a health care professional to have an active role in the full lifecycle of an injury. Following the occurrence of an injury the AT is usually the first individual to respond and provide care. Upon initial evaluation by the AT it is decided if the injured individual needs to be referred for further care or if the injury can be managed through appropriate treatment and rehabilitation. By having the ability to see a patient from the initial on-set of injury to return to activity ATs have been shown to reduce time lost due to injury in not only the recreational arena but the labor market too.
The National Athletic Trainers' Association (NATA) shows many labor intensive businesses have recognized the value of care provided by athletic trainers and the injury prevention they offer. [http://www.nata.org/athletic-training/job-settings/industrial-occupational-setting/results Their study has shown that hiring an AT to help establish fitness goals and evaluate injuries as well as supervise return to activity process, can reduce the incidence of re-injury and cut time loss by more than 60%. Another added benefit of hiring an AT in labor intensive business is that it can help reduce the incidence of malingering and false workmanship compensation claims. This is done by establishing a baseline and setting a procedure for delineating work-related injuries from injuries that occurred on personal time. The athletic trainer can still provide evaluation and treatment for non-work related injuries and ultimately reduce time lost on the work force.
Athletic trainers are an important asset to have access for both schools and companies. If your school or company does not have one ask them to visit the NATA website to see if hiring an athletic trainer can bring down costs and improve efficiency by helping your team fully recover from injuries.
Watch the video - "Athletic Trainers are unsung hero's." This video can be found at http://www.nata.org/brochures-and-other-informational-materials