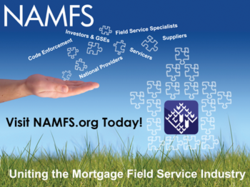 Stow, OH (PRWEB) November 30, 2012
NAMFS, the mortgage field service industry's oldest and largest association, will be exhibiting at the Mortgage Bankers Association (MBA) National Mortgage Servicing Conference and Expo being held February 19 - 22, 2013 at the Gaylord Texan Hotel and Convention Center in Dallas, TX. The four day meeting brings together experts from around the country to discuss innovative approaches and proactive initiatives to a wide range of challenges in mortgage servicing. In addition, nationally recognized speakers are slated to address the general session, as well as subsequent breakout events.
NAMFS is committed to providing its members with best-in-class resources intended to enhance the quality of service throughout the industry. The NAMFS Academy offers an online training and certification program designed to educate and assess field service professionals knowledge in several. The five training modules include General Industry Basics, Inspections, Property Preservation, REO services, Recurring Services. It will also use multiple training techniques from a written manual to slideshow presentations and training videos.
ALLIANCE, the NAMFS code enforcement solution, is a web-based communications portal that provides users with an efficient means to share information regarding at-risk properties. The program allows for a cooperative exchange of information enabling all parties involved to connect via a common platform and share information before engaging in a lengthy and potentially expensive violation recording and remediation process. Code officials can also update their contact information in our database to provide direct lines of communication as well as enter HOA information in an online database.
Details of the exhibition and conference are posted on the MBA's website.
About NAMFS
The National Association of Mortgage Field Services, Inc. (NAMFS) is the premier trade association for the mortgage field service industry. We are dedicated to working with all entities of the industry from the Government Agencies and investors that set policy to the contractors and inspectors that perform the work.