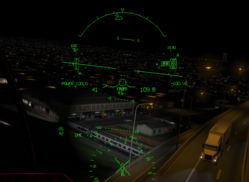 The new X-Plane plugin ready application is a new Head Up Display and works with all the helicopter models in X-Plane for the PC or MAC.
(PRWEB) November 28, 2012
X-Plane users, especially those with helicopter models just got a new technology added to their capability with the Helo HUD by FlyRealHUDs.com. The new X-Plane plugin ready application is a new Head Up Display and works with all the helicopter models in X-Plane for the PC or MAC. For many, flying a helicopter on a computer can be difficult and precision flight looking head down at instruments can limit the experience of helicopter flight until today! Now X-Plane users can enjoy the scenery and fly with precision at the same time when flying the new Helo HUD. This new HUD for Helo's lets aviators concentrate on flying, maneuvering around terrain and obstacles, and landing at night even on a moving ship.
Learning to fly a helicopter is hard enough, learning on a PC is extremely difficult. Head Up Displays or HUDs as they are called, help a pilot learn to fly looking out the window, and still see the primary flight instruments. HUD simulators of the past have been limited in their operation and value, but FlyRealHUDs.com is dedicated to bringing the real thing to the X-Plane world. The new HUDs were first unveiled at the National Business Aircraft Association convention in Orlando, Florida this month. At the convention, aviators and operators from around the world got the first look at a real and affordable Bizjet and AirTransport HUD, which were widely reported by major aviation news such as Aviation International News (AINONLINE).
Now, created in The Electronic Hanger, FlyRealHUDs.com's developers have delivered the first Real X-Plane HUD for Helos. The new HUD supports basic flight instrument operations for VFR and IFR. A flight path vector that can be operated as caged or uncaged also provides you with additional cues for energy management. Radar Altimeter, VSI and Power are also provided in this model HUD. The addition of Power for the collective is a new basic indicator for the Helo HUD. X-Plane flyers can quickly learn to control the operation of any X-Plane helicopter model and still remain head up and eyes out of the cockpit. At the Electronic Hanger all phases of flight and mission types were tested with a number of the popular X-Plane Helicopter models. The Helo HUD works with all of the X-Plane Helo models, from the R22 to the S-92, and most importantly you are head up - looking at where you are flying.
Doug Hosmer, who demonstrated the FlyRealHUDs.com's products at the 2012 National Business Aircraft Association Convention in Orlando, commented on the new Helicopter HUD product. "We are continuing to expand our product line with our new X-Plane Helo HUD. Our goal is to develop real HUDs that help aviators learn to fly real HUD systems. We have received a number of excellent reviews for our Helicopter HUD products and as we say here—the Helo HUD is "Aviator Approved"!
FlyRealHUDs.com is a company of aviation enthusiasts that love the art of creating and applying new technology in places most are afraid to go. Challenging the conventions of today's flight simulation markets, FlyRealHUDs.com believes you can fly the real thing. Inquiries about FlyRealHUDs.com can be made via their website.