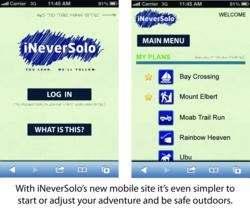 Denver, CO (PRWEB) November 28, 2012
Just like its growing global population of users, iNeverSolo is going mobile, making adventure planning and being safe outdoors even easier. The new iNeverSolo mobile site, which lets outdoor adventurers across the globe create, activate, extend or end their outdoor plan from their ever-present mobile phone, launched today. Being smart and safe outdoors is now as simple as going to http://www.iNeverSolo.com on a mobile phone.
According to iNeverSolo founder Jed Mitchell, the new mobile site fits the active, on-the-go lifestyle of today's outdoor adventurers. "From the moment we launched iNeverSolo, the most requested update was mobile access. We're now excited to offer that," said Mitchell. In addition, the new mobile site acknowledges the ever-changing and unpredictable nature of being outdoors. For Mitchell, "the one constant in the outdoors is that things change, sometimes quickly. iNeverSolo's new mobile site gives our users the flexibility to create, activate, extend their time or even end their plan on the fly, right from their phone." Simple, mobile access now makes every outdoor adventure simpler to plan or change, and, as a result, safer.
Of course, outdoor users can still enter and activate a plan with iNeverSolo for free, either from their computer or, now, their mobile phone. iNeverSolo is still the outdoor adventurer's virtual safety net, alerting designated contacts by text or email if the user is not back as planned. With a link to the online plan, designated contacts can take the necessary steps to ensure a safe return.
Joining is still as easy as registering at iNeverSolo.com and planning an outdoor adventure. Registering is not only a smart step to ensuring a safe adventure, it also enters the user in iNeverSolo's weekly give-away for free gear from the likes of Sanuk, Rudy Project, Bergans of Norway, Steripen, FlyLow, Adventure Medical Kits, Petzl, Survive Outdoors Longer and GoMotion.
iNeverSolo is a Colorado-based company that offers the global population of outdoor enthusiasts and their friends and families vital peace of mind. Safe, simple and free,
iNeverSolo is a powerful new and now mobile ally for every outdoor adventure. The smart adventure registers a plan at iNeverSolo.com before heading out the door for the next adventure, . There's just no reason not to.