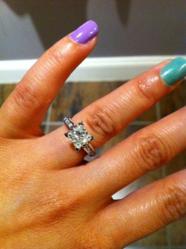 How Can the Engagement Ring Can Pay for Wedding Photography?
Palo Alto, CA (PRWEB) November 29, 2012
BrideBox, a leading wedding album creation service provider for modern do-it-yourself couples, is giving brides the chance to cover some costs of their wedding photography with only a glimpse of their engagement rings.
The "Pin Your Bling" competition on Pinterest, hosted by BrideBox, allows brides to further save on the cost of their wedding photography by winning a wedding album or guest book.
BrideBox wedding albums were previously available only through professional photographers. Now, they are available directly to brides for a quarter of the pro price, thanks to the BrideBox software application brides can use to design their professional albums themselves.
"Brides today are looking for DIY wedding projects that are as high as quality as they can buy from a professional. The only thing they want to cut is the cost, not the quality," according to Bryan Passanisi the online marketing expert at BrideBox, a professional photo product company. "With a little time only, brides can have quality, customized wedding albums that cut no corners in quality," Steinhart said.
The most repinned photo wins a Classic Anza leather photo album. The second winner is counted on the highest number of likes of their submission photo, winning an elegant Fillmore guest book.
The competition is open to both engaged couples and newlyweds. Entrants must submit a photo of their engagement or wedding ring and the photo is 'pinned' to the BrideBox contest Pinboard, tagged with the couple's names, wedding location and wedding date. From this board, the couple can encourage their family, friends and social networks to repin the photos to their own pin boards as many times as they'd like. The most repinned and liked photo as of December 31, 2012 will be declared the winners. Only repins from the original source on the BrideBox contest board are counted. Entries can be emailed to bling(at)bridebox(dot)com.
About BrideBox
Bride Box is devoted to helping couples design their own wedding albums without sacrificing the top quality materials and photo finishing that mark a professionally produced album. BrideBox combines years of wedding photography expertise and a proprietary process that gives consumers access to products previously only available through photography professionals. The BrideBox line of wedding albums offers unmatched quality, combining the benefits of technology with the skills and individual attention of imaging professionals. BrideBox is a division of DigiLabs, Inc., a privately-held company that creates superior photo products available through professional photographers. Find BrideBox on Facebook at https://www.facebook.com/BrideBoxWeddingAlbums or for more information, go to http://www.BrideBox.com