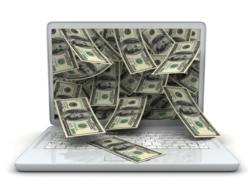 When it comes to technology stocks, one must develop an investment strategy that has long-term implications.
New York, NY (PRWEB) November 28, 2012
In a recent Profit Confidential article, contributor and financial expert Sasha Cekerevac reports on an interesting article in The Telegraph stating that sources involved with both Yahoo! and Facebook have recently been in discussions about forming an alliance. (Source: "Yahoo! plots alliance with Facebook in new search deal," The Telegraph, November 17, 2012.) Cekerevac notes that combining these firms could lead to a strong investment strategy that could make them a formidable opponent to the giant among Internet technology stocks, Google.
"When it comes to technology stocks, one must develop an investment strategy that has long-term implications," says Cekerevac. "Technology stocks can be quite volatile, so it helps to have a long-term horizon and an understanding of what the companies are trying to do over the next few years."
In the article "Alliance Between Yahoo! and Facebook?," Cekerevac notes that an alliance between these two technology stocks, Yahoo! and Facebook, would be favorable to shareholders of both firms as the monetization of their user base has always been questionable.
According to the Profit Confidential expert, combining Facebook's members and Yahoo!'s database would enhance the ability of both firms to target potential customers for advertisers.
The Profit Confidential expert concludes that, while this alliance is just speculation at this point, as neither one of these technology stocks has made any official comments regarding a potential alliance, the idea behind forming some sort of alliance between Yahoo! and Facebook offers quite a few positives with very few negatives.
Profit Confidential, which has been published for over a decade now, has been widely recognized as predicting five major economic events over the past 10 years. In 2002, Profit Confidential started advising its readers to buy gold-related investments when gold traded under $300 an ounce. In 2006, it "begged" its readers to get out of the housing market...before it plunged.
Profit Confidential was among the first (back in late 2006) to predict that the U.S. economy would be in a recession by late 2007. The daily e-letter correctly predicted the crash in the stock market of 2008 and early 2009. And Profit Confidential turned bullish on stocks in March of 2009 and rode the bear market rally from a Dow Jones Industrial Average of 6,440 on March 9, 2009, to 12,876 on May 2, 2011, a gain of 99%.
To see the full article and to learn more about Profit Confidential, visit http://www.profitconfidential.com.
Profit Confidential is Lombardi Publishing Corporation's free daily investment e-letter. Written by financial gurus with over 100 years of combined investing experience, Profit Confidential analyzes and comments on the actions of the stock market, precious metals, interest rates, real estate, and the economy. Lombardi Publishing Corporation, founded in 1986, now with over one million customers in 141 countries, is one of the largest consumer information publishers in the world. For more on Lombardi, and to get the popular Profit Confidential e-letter sent to you daily, visit http://www.profitconfidential.com.
Michael Lombardi, MBA, the lead Profit Confidential editorial contributor, has just released his most recent update of Critical Warning Number Six, a breakthrough video with Lombardi's current predictions for the U.S. economy, stock market, U.S. dollar, euro, interest rates and inflation. To see the video, visit http://www.profitconfidential.com/critical-warning-number-six.