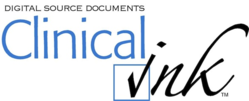 LONDON and CAMBRIDGE, MA (PRWEB) November 28, 2012
Quanticate, a leading global provider of data-related clinical services recently announced its partnership with Clinical Ink, a US-based company that offers a tablet-based system for collecting electronic source data in clinical trials. The objective of the partnership is to provide a consolidated eSource solution to increase the quality of the data captured and to introduce real-time remote monitoring of data. Quanticate will be utilizing Clinical Ink's award-winning SureSource® solution that has been proven to speed up the availability of clinical data from clinical research sites.
"As a Clinical Research Organization (CRO) specializing in data-related services, we have been actively working with our customers to develop solutions that can help to provide efficiencies, whilst improving overall quality," explains David Underwood, Chief Executive Officer at Quanticate. "Our newly launched centralized service provision (CSP) approach is focused on centralizing data to gain additional insight and provide fast access to data within a study and across a portfolio. Our CliQ portal has been developed to offer this insight, and with the use of SureSource by Clinical Ink, access and visualisation of study data will be much quicker also."
"We are pleased to partner with Quanticate to bring the benefits of eSource to the European clinical trial market," commented Ed Seguine, CEO of Clinical Ink. "The benefits of our approach to eSource are immediately apparent and, when coupled with Quanticate's additional services, will provide our customers with real opportunities to simultaneously reduce cost and increase quality in their clinical trial projects."
In addition to offering traditional Electronic Data Capture (EDC) and paper options, Quanticate plans to support SureSource as part of an integrated approach to replace EDC with technology that captures source data during a patient visit – no secondary data entry by sites and no source data verification by monitors. Clinical Ink's SureSource platform has recently been recognized by Gartner Research, Microsoft, and the Society for Clinical Data Management for the "significantly disruptive potential in the area of EDC" that this eSource model represents.
About Clinical Ink
Clinical Ink has developed the first purpose-built electronic source record (ESR) that meets all regulatory guidelines for eSource. SureSource™ replaces paper source documents with electronic forms that maintain the natural workflow, ease of use, and mobility of a paper chart. In addition, Clinical Ink's web portal enables the remote monitoring of the eSource. Clinical Ink is headquartered in Winston-Salem, North Carolina and has an office in Philadelphia, Pennsylvania. For more information visit http://www.clinicalink.com.
About Quanticate
Quanticate, headquartered in the UK and USA, is a leading global Clinical Research Organization (CRO) primarily focused on the capture, management, analysis and reporting of data from clinical trials and post-marketing surveillance. Our team has a passion for excellence and provides high quality, efficient outsourcing solutions for companies who need additional capacity or who want to outsource certain activities in their entirety. Clinical trial management and post-marketing services include scalable on-site and off-site clinical data management, biostatistics, clinical programming, PK/PD analysis, medical writing, pharmacovigilance and consultancy. Quanticate is the first CRO to introduce the Centralized Service Provision (CSP) approach to outsourcing supported by its data centralization and visualization tool, 'Clinical Intelligence from Quanticate' (CliQ) for both single study and cross-study data analysis. Please visit the new website at http://www.quanticate.com for further information and access to white papers.