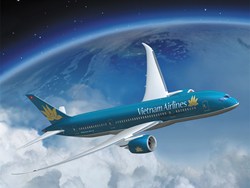 The goal is to provide customers with updated information related to travel in a convenient way
(PRWEB) November 28, 2012
On the occasion of its 3rd birthday, vietnamairfare.org support cheap tours with best services and guarantee processing time for customers. Besides, tourists will have chances to get useful and updated information, including trip booking, route map, fare types, travel documents, baggage, and so on. Especially, tourists now can easily get access to such attractive offerings since the website has joined face-book as a community webpage. "The goal is to provide customers with updated information related to travel in a convenient way," says Mr Bui, the administrator of the page.
Acting as the leading online booking center in Vietnam, the website has now become more and more popular among tourists. Apart from proving customers with reliable, fast, and effective services, the website also constantly updates Vietnam Airlines news on its homepage. As a matter of fact, the online booking center always ensures to bring a guarantee for the quality of customer service as well as the preciseness of information.
To meet the high need of travelers to Vietnam, many travel agencies have launched discounted tours in Da Nang, Quy Nhon, Phu Yen, Con Dao, and South West Vietnam. 25% - 45% discount for tour programs to Da Nang, Quy Nhon, Phu Yen, Con Dao, and South West Vietnam is the biggest discount in three years sponsored by well-known names such as Vietravel, Hanoi Redtour, Saigon Tourist and Vietran Tour, Thang Loi Tourism Company. Such information has been updated on face-book. And a lot of similar information is constantly posted. Therefore, people just click like to the page and they can see such useful and updated news on their own homepage on face-book.
Besides, it also provides Vietnam Airlines news that many people may be seeking for. For example, Vietnam Airlines adds a destination to flights to the U.K. Customers can get more updated information by getting access to the website or joining face-book.