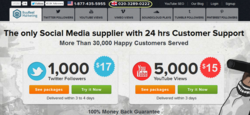 Ottawa, ON (PRWEB) November 28, 2012
Buy Real Marketing, the leading provider of web 2.0 business applications and social media marketing solutions, recently adds a toll free number to serve UK-based clients. The new number will help Buy Real Marketing provide the most convenient method for UK clients to pay to get followers on Twitter, YouTube views and other social media services they provide.
The escalating need for social proof has already reached other parts of the world, other than the U.S., which most chunks of Buy Real Marketing clients are based. United Kingdom does not go behind the trend of online and social media marketing competition. Holding their own fort, they make up a significant percentage of the 30,000 happy clients that the company is currently supplying.
With advantageous benefits offered to clients such as the Client Portal, Reseller program (now Premium users) and the Elite Reseller program (now VIP users) where prices of Twitter followers, YouTube views and other services have been lowered to a very affordable rate, Buy Real Marketing has always aimed to live up to their promise of a client-centered service.
Another proof of the company's dedication to full-heartedly serve their clients is their 24/7 customer support staffed by very skilled and friendly customer representatives. Buy Real Marketing clients, including the UK-based clients, can call up these friendly people to ask questions, raise concerns or get updates on their orders. The UK toll free number is 020­3289-0222 that clients can call up anytime of the day and any day of the week. Customer representatives are ready and always on the roll round the clock, to resolve clients' needs.
Buy Real Marketing never stops evolving and thinking of strategies for the benefit of their continuously growing client base. The company offers services that help clients grow their business through social media. Among the services they offer are Twitter followers, YouTube and Vimeo views, Tumblr followers, SoundCloud plays and Pinterest followers. These services are offered with a 100% Money Back Guarantee.
To know more about the company's services, visit their website at http://www.buyrealmarketing.com or contact them at 1-877-435-5955 (US) and 020­3289-0222 (UK).
About
Buy Real Marketing is owned by Clicking Labs. Clicking Labs is a well-established internet marketing company founded in 2010 by Jean-Patrick Bisson, Diana Quartin and Jonathan Kennedy. The company specializes in driving search marketing and social media traffic, social web app development and conversion optimization. Each product or service specifically helps small/medium website owners increase online visibility and improve online sales.