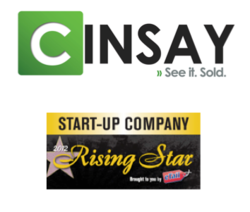 Cinsay's patents support the company's flagship technology or Smart Store™ platform, which seamlessly combines video, social media, mobile and eCommerce into one user-friendly platform.
Austin, TX (PRWEB) November 28, 2012
Cinsay will be featured and presented at the ICAP Patent Brokerage and Monetization Symposium where Cinsay's Founder and CEO, Christian Briggs will discuss the company's technology patents and how they play an integral role to the company's future and its growing market base of Smart Store™ users.
ICAP's Fall 2012 Patent Monetization Event and IP Auction will focus on how to assist small and mid-size business owners, mid-level and senior corporate executives, start-up business owners, university tech transfer offices and laboratory managers as well as inventors, in creating value from their intellectual property.
Cinsay holds several granted patents and pending patents in the areas of social, video commerce for the web and mobile devices. Cinsay's patents support the company's flagship technology or Smart Store™ platform, which seamlessly combines video, social media, mobile and ecommerce into one user-friendly platform. The technology provides merchants a next-generation tool for selling, taking donations, lead generation and marketing. The company also offers customers high-quality, full-service video production for their Smart Store accounts via CinsayProductions.com and for merchants in need of personalized, unique merchandise; CinsayOnDemand.com provides complete turnkey production and fulfillment of t-shirts, posters, canvas, mugs and other customized products for a true, 'Business in a Box' solution.
The event takes place November 28th and 29th at the Ritz Carlton Hotel, San Francisco, California. For more information, visit http://icappatentbrokerage.com/fall-2012-event
For more information on Cinsay and the new shopping portal, MyCinsay visit either MyCinsay.com or Cinsay.com where new users can sign up for a free 30-day Smart Store™ account and experience first-hand where social, video and eCommerce are headed for 2013.
About Cinsay, Inc.
Cinsay has created a next generation social eCommerce, viewer interactive, video-based platform for any individual or size businesses. Cinsay's SaaS based technology enables everyone to sell products, services, capture donations, and generate leads all inside the patented Smart Store™ technology. Additional services available to individuals, SOHO's, enterprises and nonprofits, are Cinsay's complete turnkey business solution via exclusive on demand, made to order merchandise featuring hundreds of personal, brandable products like t-shirts, caps, mugs and iPhone covers available at CinsayOnDemand.com. Now, anyone can be in business within minutes with no inventory whatsoever. Merchants benefit from Cinsay's in-depth reporting tools and real-time statistical data. Cinsay's embeddable platform is compatible with web and mobile devices and is highly scalable via its enterprise-level hosting and distribution networks. Full video production is available through CinsayProductions.com. Cinsay aggregates and promotes merchant stores via its searchable consumer portal, MyCinsay.com. Notable clients include: GameFly, Neiman Marcus, Wet Seal, decompras, and California Closets. Forbes has named Cinsay as one of "America's Most Promising Companies" and by eTail Conferences as a "Rising Star" in innovation for 2012.